This Week in Trump-Russia News: Is Roger Stone Mueller's next target?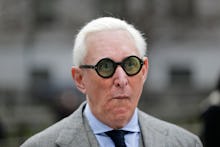 Robert Mueller has already brought down top members of President Donald Trump's team, including former national security adviser Michael Flynn and former campaign manager Paul Manafort — whose first trial in Virginia is winding down.
Now, the special counsel's team is making moves that suggest he may be building a case against Roger Stone — the infamous Republican operative and close Trump ally.
Mueller alluded to Stone in his indictment last month of 12 Russian intelligence operatives who participated in the Kremlin's interference in the 2016 election, and has been contacting associates of the political trickster for weeks.
Here's what you need to know about the apparent pressure on Stone, and about the Manafort trial and Devin Nunes' plan to protect Trump from Mueller.
Mueller's footsteps grow louder
Stone has long been under the microscope in the Russia investigation.
He has already admitted to communicating with Guccifer 2.0, a fictitious online persona through which documents stolen from the Hillary Clinton campaign and Democratic Party were disseminated in 2016.
He has also apparently claimed to have been briefed by Julian Assange on stolen Clinton and Democratic Party documents WikiLeaks had obtained before the group made them public.
But he's appeared to be under even more scrutiny since Mueller indicted a dozen Russians last month over the Kremlin's election meddling.
The July indictment made reference to an unnamed person who had been in contact with both the Russians and top Trump campaign officials — someone Stone said is "probably" him.
That indictment also contained a reference to an organization that released some documents stolen by the Russians, which is believed to be a reference to WikiLeaks, with whom Stone and others in Trump's orbit were reportedly in contact.
The special counsel seems to be closely examining Stone as part of the investigation.
According to ABC News, at least nine of the operative's associates have been contacted by Mueller's team, including "Manhattan Madam" Kristin Davis and Andrew Miller.
Davis, whose escort service purportedly catering to New York's richest and most famous men made her a tabloid fixture, was questioned by Mueller's team earlier this month and was called to testify before the special counsel's grand jury this week.
Miller, an associate of Stone, had mounted an unsuccessful challenge to Mueller's authority after being subpoenaed to testify, but a federal judge ruled Aug. 2 that "the special counsel's power falls well within the boundaries the Constitution permits."
Miller was held in contempt Friday after refusing to appear before the grand jury.
While the pressure on Stone appears to be mounting, the eccentric political consultant has said there are "no circumstances" in which he'd turn on Trump.
Manafort's first trial winds down
Stone is a longtime close ally of Trump, and it is believed that his recommendation was at least part of the reason why the president hired Manafort to manage his underdog campaign.
The two began their shady political careers together, having formed an innovative — and ethically murky — political consulting and lobbying firm together, years before Manafort would run afoul of the law during his work on behalf of pro-Russian interests in Ukraine.
Manafort was indicted by Mueller back in October, and the first of his two trials is currently winding down.
Prosecutors have painted Manafort as having maintained a lavish lifestyle through bank fraud and tax evasion. Rick Gates, his longtime associate, who flipped in February, testified this week that he and his ex-boss committed a number of crimes, all "at the direction of Mr. Manafort."
Manafort's defense has attempted to undermine Gates' credibility and to cast the blame onto him, but that strategy seems unlikely to succeed, according to analysts.
Nunes reveals Republican plan to protect Trump
The trial of his former campaign manager appears to have rankled Trump, who has been somehow more aggressive in his attacks on the Mueller probe in recent weeks.
As the trial got underway, he directly called on Attorney General Jeff Sessions to end the probe "right now." On Saturday, in one of his several broadsides against the investigation this week, he tweeted that Sessions was "scared stiff and Missing in Action"
"Not pretty," Trump tweeted, seemingly admonishing Sessions once again for failing to protect him in the Russia probe. "Witch Hunt!"
While Sessions may not be giving him the cover he so desires, Rep. Devin Nunes (R-Calif.) certainly is.
The House Intelligence Committee chairman has been one of the president's most prominent, and effective, defenders on Capitol Hill — accusing federal law enforcement of abuse of power in February and derailing his own panel's Russia probe in March.
Democrats have accused him of essentially running cover for Trump, but he appears to believe that it's his and other Republicans' responsibility to do what they can to protect the president because they're "the only ones" who can.
He made that clear in comments he made during a July fundraiser for Rep. Cathy McMorris Rodgers (R-Wash.), which were captured on recordings obtained by the Rachel Maddow Show this week.
"If Sessions won't un-recuse himself, and Mueller won't clear the president, we're the only ones," Nunes said at the fundraiser for Rep. Cathy McMorris Rodgers (R-Wash.). "Which is really the danger."
"We have to keep the majority," Nunes continued. "If we do not keep the majority, all of this goes away."
He also suggested that Republicans would more aggressively move to oust deputy attorney general Rod Rosenstein, who oversees the Russia probe, after confirming Supreme Court nominee Brett Kavanaugh and the midterm elections this fall.
House Conservatives last month introduced articles of impeachment against Rosenstein, but the resolution has failed to gain momentum.
"It's not a matter that any of us like Rosenstein," Nunes said. "It's a matter of timing."
Giuliani pushes back on Mueller
As Trump continues to attack the Mueller probe, the special counsel has been negotiating a possible interview with the president.
Mueller has wanted to ask Trump questions about possible collusion with the Russians, as well as potential obstruction of justice, for months.
But Trump's legal team has opposed such an interview, and Rudy Giuliani this week suggested Mueller was attempting to set a "perjury trap" for the president.
Giuliani, the face of Trump's legal team, is indicating he may not allow the special counsel to meet with the president, possibly setting up a contentious court battle between the two parties.
He is also calling on Mueller to wrap his probe up early this fall, ahead of the midterm elections, and this week called on Sessions to appoint a second special counsel to to "investigate the conspiracy to defeat Donald Trump by buying and disseminating false dossiers, obtaining illegal wires and commencing baseless FBI investigations."