'Insecure' season 3, episode 1: Meet the artists behind the songs in "Better-Like"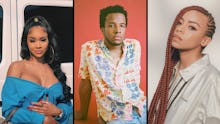 There are so many things to appreciate about Issa Rae's Insecure. The stars! The storytelling! The cinematography! The clothes! The jokes!
The HBO series, which kicked off its third season Sunday night, is also known for its celebration of good music — rap, funk and soul are all regular presences and come from newcomers and chart-toppers alike.
To keep up with the music each week for the third season, Mic will compile a list of songs after each episode airs. The premiere, of course, featured some heavy-hitters — Cardi B, Ty Dolla $ign and Miguel — but these weekly lists will focus on lesser-known artists you might not know yet. So let's get to it.
In an interview with British Vogue, Ravyn Lenae describes her music as "dreamy, soft and a bit futuristic." The 19-year-old Chicago artist released her five-track EP Crush earlier this year and is currently on tour in the U.S.
"Womp Womp" by Valee
Fans of Valee say he has a "quiet flow,' and it may be one of the reasons Vice recently called him "one of rap's best kept secrets." The Chicago-based rapper has a deal with G.O.O.D. Music and released his first EP, Good Job, You Found Me, in March. The single, "Womp Womp," features Jeremih, and the music video is a must-watch.
Saweetie's "Icy Grl" is the song women everywhere should set as their daily alarm. The Bay Area rapper describes an "Icy Girl" as someone who is "chargin' by the minute because her time is really pricey," and the song samples Khia's "My Neck, My Back." It's a two-minute anthem we didn't know we needed.
Childish Major has produced music for big names like Future, SZA and J. Cole, but now he's making a name for himself behind the mic. His song "Supply Luh" appeared on the second season of Insecure, and his recently released single "Know Nothing" taps into several themes of the series, including the ebb and flow of love, job satisfaction and self-esteem.
"Where the Bag At?" by City Girls
The Miami rapper duo made up of JT and Yung Miami is getting its shine in 2018. After the women were featured on Drake's "In My Feelings" single, their stars began to rise. In May, City Girls released its debut album Period, which features "Where the Bag At."
"Cold War" is Cautious Clay's debut single. He released the song on Soundcloud just months after quitting his day job, and he has since put out his EP, Blood Type, the Fader reports. His soulful sound can be partially accredited to his parents, who listened to a lot of Earth, Wind and Fire and the Delfonics when he was growing up.
Radiant Children is a London-based trio and its single "Life's a Bitch" is just two months old. Its debut album is set to be released this summer, and its most recent single, "Poke Bowl," dropped in July. The group's funky sound was the perfect vibe to close out the episode.