Coming up this week in politics: Manafort trial nears an end as Senate and Trump head back to DC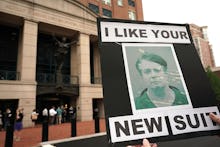 After a quiet week on Capitol Hill, the U.S. Senate will head back to Washington Wednesday, as Trump also wraps up an 11-day vacation in Bedminster, New Jersey.
Last week's political dramas are also set to continue this week, as former Trump campaign manager Paul Manafort's trial enters its third and potentially final — week. Voters in four states will head to the polls Tuesday for primary elections, while vote counting continues in last week's two most contentious races.
Here's what to expect from the week ahead.
Manafort trial: The prosecution is expected to rest this week in the trial of Paul Manafort, following two weeks of testimony accusing the former campaign manager of tax evasion and bank fraud. Last week's legal proceedings were marked by the temper of Judge T.S. Ellis III, who has repeatedly chided prosecutors during the trial, and the testimony of Manafort associate Rick Gates, who admitted on the stand he committed crimes at Manafort's direction.
According to Roll Call, special prosecutor Robert Mueller's team is expected to call at least one more witness when the trial resumes Monday, after initially expecting to rest its case Friday. Though the jury could begin its deliberations as soon as Tuesday, the defense could potentially call one or more witnesses once the prosecution rests.
Trump's agenda: Following a vacation in Bedminster, New Jersey, Trump will return to the campaign trail Monday with a visit to upstate New York to campaign for Republican Reps. Elise Stefanik and Claudia Tenney. During his time in Fort Drum, New York, the president will also sign the John McCain National Defense Authorization Act, which will set the Department of Defense's priorities and budget.
The president is set to have a quiet week following his New York trip; he will have lunch with Secretary of State Mike Pompeo and Vice President Mike Pence on Tuesday and Thursday, respectively, and hold a Cabinet meeting Thursday as well.
Congress: While the House remains on recess, the Senate will return to Washington Wednesday and get back to work. Roll Call noted the shortened work week is likely to focus on 2019 spending measures along with approving judicial nominations for the 4th Circuit of Appeals.
Senate Democrats are expected to begin meeting this week with Supreme Court nominee Brett Kavanaugh, whose Senate confirmation hearings are now set to begin in early September. After previous efforts to boycott Kavanaugh, the Washington Post reported Sens. Chuck Schumer and Dianne Feinstein are now likely to schedule meetings with Kavanaugh this week to privately press the nominee to release papers from his time in the George W. Bush White House. Two red state Democrats who could be swing votes on Kavanaugh, Sens. Heidi Heitkamp and Joe Donnelly, are also scheduled to meet with Kavanaugh Wednesday, after West Virginia Sen. Joe Manchin became the first Democrat to to meet with the candidate July 30.
Primary elections: Voters in Connecticut, Wisconsin, Minnesota and Vermont will head to the polls this Tuesday for primary elections ahead of the November midterms. In Minnesota, voters will elect the Republican challenger to Sen. Amy Klobuchar — who faces her own Democratic challengers — as well as determine who gets to finish out the final two years of former Sen. Al Franken's term. The Democratic candidates include Lieutenant Gov. Tina Smith, who is currently serving in Franken's seat, as well as former George W. Bush ethics lawyer Richard Painter. Republican candidates include state Sen. Karen Housley and real estate developer Jerry Trooien.
Eight Wisconsin Democrats will vie to take on Gov. Scott Walker in the November gubernatorial election, which could prove to be a test of Democrat voters' enthusiasm in the state, while Republican Senate candidates fight to challenge current Democratic Sen. Tammy Baldwin. Wisconsin's House races will include the replacement for current House Speaker Paul Ryan; former Ryan aide Bryan Steil is expected to nab the Republican nomination, while Randy Bryce, also known as the "Iron Stache," will run for the Democratic nomination against teacher Cathy Myers.
In addition to Tuesday's primary elections, votes will continue to be counted this week in last week's Ohio special House election and Kansas Republican gubernatorial primary. Provisional and absentee ballots are set to be counted Aug. 18 in Ohio, where Republican Troy Balderson currently has a 0.8% lead over Democrat Danny O'Connor. Kansas Secretary of State Kris Kobach, who recused himself from overseeing the vote count after his role drew controversy, is currently maintaining a slim lead over current Gov. Jeff Colyer, and the vote could be headed toward a recount.