Omarosa says Trump is a racist, admits she was "complicit" in deceiving the nation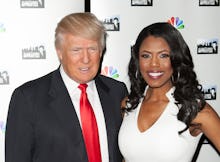 Former White House aide and longtime Trump ally Omarosa Manigault doubled down on claims that President Donald Trump is racist Sunday, adding she was "complicit" in the Trump administration's bad deeds.
"Donald Trump is a con and has been masquerading as someone who is actually open to engaging with diverse communities," Manigault said Sunday on Meet the Press. "He is truly a racist."
Manigault's allegations echo comments the former Trump ally made in her upcoming memoir, Unhinged. According to the New York Times, Manigault claims in the book that by the time she left the White House in January it "finally sunk in that the person [she'd] thought [she'd] known so well for so long was actually a racist."
Manigault also claims there are tapes of Trump using the "N-word." The former White House aide said Sunday she heard the tapes for herself after completing work on her book, but noted she has never heard racial slurs from the president herself.
"I was in the room when he said inappropriate things, but [Trump] has never said the N-word in my presence, ever," Manigault said Sunday, adding he "probably has said some very derogatory things about me."
Prior to her White House departure, Manigault was known as a vocal supporter of the president, whom she has known since her time as a contestant on The Apprentice. In a December 2016 guest column for the Hollywood Reporter, Manigault wrote Trump "does not judge people on their gender or race. He judges them on their ability to do the job."
Manigault claimed Sunday, however, she only realized her prior defenses of the president were wrong "in hindsight," telling host Chuck Todd, "I had a blind spot when it came to Donald Trump. I wanted to see the best in him, and obviously, I failed miserably."
"Being used by Donald Trump for so long, I was like the frog in the hot water," Manigault said Sunday. "You don't know that you're in that situation until it keeps bubbling and bubbling. It's clear in hindsight, because hindsight is 20/20."
Manigault also took responsibility for her actions as part of the Trump administration, telling Todd "I was complicit with this White House deceiving this nation."
"They continue to deceive this nation by how mentally declined [Trump] is, how difficult it is for him to process complex information, how he is not engaged in some of the most important decisions that impact our country," Manigault said. "I was complicit, and for that, I regret."
The Meet the Press interview also included a recording Manigault made of the meeting with Chief of Staff John Kelly in which she was terminated from her White House position. In the recording, Kelly can be heard telling Manigault she was fired for "pretty serious integrity violations," and said "if we make this a friendly departure ... you can go on without any type of difficulty in the future relative to your reputation."
"The chief of staff of the United States, under the direction of the president of the United States, threatening me on damage to my reputation," Manigault said Sunday about the recording. "That's downright criminal."
White House adviser Kellyanne Conway hit back against Manigault's claims about Trump's racism Sunday in an interview on ABC's This Week, claiming, "The first time I ever heard Omarosa suggest those awful things about this president are in this book."
"I have worked alongside [Trump] for over two straight years now without interruption," Conway said Sunday. "I have never, a single time, heard him use a racial slur about anyone. And I have also never heard Omarosa complain that he had done that. And so the only thing that's changed is that she's now selling books."