Hype Daily: Lindsay Lohan backtracks, more new music from Nicki Minaj and more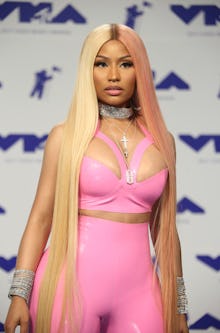 Welcome to Hype Daily, Mic's morning entertainment roundup. Here's everything you need to catch up on in the entertainment world and what to look forward to today. Want to receive this as a daily email in your inbox? Subscribe here.
Shark thriller The Meg did better at the box office than expected
It turns out people really love giant sharks. The Meg, the new shark thriller starring Jason Statham and a prehistoric megalodon (aka a really really big shark) opened this weekend and outperformed box office estimates. Originally expected to be somewhat of a flop, The Meg made $44.5 million in North America this weekend, according to the New York Times, and an additional $97 million globally.
As Deadline put it, neither experts nor Warner Bros., the studio behind The Meg, "ever thought that another shark movie, specifically one with a 49% Rotten Tomatoes score, had the potential to open at this level." We're gonna need a bigger theater ... get it?
Lindsay Lohan is sorry she said women who speak out about harassment and abuse are "weak"
Former child star and current problematic opinion-haver Lindsay Lohan apologized for a recent interview she did with the British outlet the Times, where she said powerful women who speak out about their experiences as victims of sexual harassment make themselves "look weak."
In a statement to People Sunday, Lohan said, "I would like to unreservedly apologize for any hurt and distress caused by a quote in a recent interview with the Times." She went on to add, "I feel very strongly about the #MeToo movement and have the utmost respect and admiration for the women brave enough to come forward and speak out about their experiences." OK then, apology noted!
Nicki Minaj dropped a new song after dropping a new album
Nicki Minaj dropped her new album Queen Friday — but it turned out that wasn't all the new music she's got in store. She followed that up with a brand new song, "Sorry," which debuted on Hot 97 Saturday night. "Sorry" is a collaboration with Nas — you can listen to it here.
Already since its Friday release, Queen has gotten a few reviews. Variety called it "an epic 19-track collection that stands as her best and boldest recorded work to date," but the Los Angeles Times said "all the back-in-my-day stuff suggests a lack of confidence in her unique perspective."
The trailer for season two of Marvelous Mrs. Maisel is out
Amazon debuted a teaser trailer for the upcoming second season of The Marvelous Mrs. Maisel Friday. The first season featured Rachel Brosnahan as the titular Midge Maisel, an Upper West Side housewife whose husband, an aspiring comedian, packs up and leaves her for another woman. Stunned, grieving and angry, Midge takes up stand-up comedy herself.
From the new trailer, it seems like Midge is still struggling to gain a foothold in the comedy world and dealing with family drama, but this time she's taking a trip to the Catskills. Watch the full trailer here.
Put this on your radar: Crazy Rich Asians
Warner Bros.' new summer rom-com Crazy Rich Asians, based on Kevin Kwan's novel by the same name, finally hits theaters Wednesday. Directed by Jon M. Chu and starring Constance Wu and Henry Golding, the film follows the story of a woman who goes to Singapore to meet her boyfriend's family and discovers they are fabulously, wildly rich.
Crazy Rich Asians, which features an all-Asian cast, has been getting good buzz. Variety called it "a fresh twist on the princess-movie formula" and the Guardian called it "a vital crowd-pleaser."