Today in Trump's America: Trump raises money for GOP rep who said most mass shooters are Democrats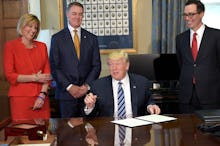 Welcome to Mic's daily read on Donald Trump's America. Want to receive this as a daily email in your inbox? Subscribe here.
Good morning from Emily Singer at Mic.
Check out Mic Dispatch, Mic's new show reporting on the problem-solvers and the provocateurs in our changing world. Subscribe here for alerts on new episodes airing Tuesdays and Thursdays, 8 p.m. Eastern, on Facebook Watch.
Here's what's happening in Trump's America:
• Trump has a half-day left of vacation, as he leaves his New Jersey golf club at 12:50 p.m. to head to upstate New York on Monday for a mixture of official and campaign business.
About the weekend: Omarosa sparks debate about whether Trump is a racist, as Nazis descend on Washington
Reality television villain turned White House aide Omarosa Manigault Newman caused a boatload of headaches for the Trump administration after she went on television Sunday to accuse Trump of being racist.
Manigault Newman is making the rounds, thanks to the upcoming release of her book, Unhinged. The book details her time in the White House and her relationship with Trump — which began when she was a contestant on Trump's hit show The Apprentice.
"Donald Trump is a con and has been masquerading as someone who is actually open to engaging with diverse communities," Manigault said Sunday on Meet the Press. "He is truly a racist."
Manigault Newman also claims to have seen a tape in which Trump uses the "N-word" — though she said she never heard him say it in front of her.
"I was in the room when he said inappropriate things, but [Trump] has never said the N-word in my presence, ever," Manigault Newman said on Meet the Press, adding Trump "probably has said some very derogatory things about me."
Both the White House and the Republican National Committee have attacked Manigault Newman, calling her a liar.
"Omarosa will clearly say anything to make a buck," the RNC tweeted from its official account. "It's obvious that no one should believe a word she says. #OmarosaUnhinged."
Of course, that begs this question: Why would Trump hire someone who is an untrustworthy liar, especially when he said he only hires the "best people."
Manigault Newman's charge that Trump is racist came on the one-year anniversary of the neo-Nazi rally in Charlottesville, Virginia. Trump was pilloried for his response to that event after he said there were good people on both sides of the Neo-Nazi rally and the counter-protests.
Neo-Nazis again planned a protest in Washington, D.C, Sunday. Their event was swamped by counter-protesters, who turned out in droves to say white supremacists are not welcome.
Today in Trump's America: Manafort trial enters its final week
The prosecution in the trial against former Trump campaign chairman Paul Manafort is expected to end this week, with the jury soon to deliberate to decide whether it believes Manafort committed the 32 counts of bank fraud and tax evasion he's been charged with.
Over the course of nine days so far, prosecutors have laid out a long paper trail detailing Manafort's years of hiding income from the IRS, and they've presented the fraudulent documents he used to obtain loans for a lavish lifestyle he could no longer maintain when his lucrative consulting deals with pro-Russian officials in Ukraine dried up.
Experts do not expect Manafort to escape the trial unscathed, saying the mountain of evidence prosecutors have detailed is too much for Manafort to overcome.
Whether or not Manafort is found innocent, he's set to face yet another trial in September on more explosive charges — including obstruction of justice and conspiracy against the United States.
Capitol Hill happenings: Republicans schedule confirmation hearings for Kavanaugh, despite lack of documents
Senate Judiciary Chairman Chuck Grassley (R-Iowa) announced Friday his committee will begin holding confirmation hearings for Trump's Supreme Court nominee Brett Kavanaugh on Sept. 4 — before the National Archives is able to release documents pertaining to his government service.
Democrats are up in arms, saying it's irresponsible to confirm a justice to a lifetime position on the country's highest court without being able to sift through his entire record — including documents from Kavanaugh's time working in former President George W. Bush's White House.
"We will see only a small portion of Kavanaugh's White House documents by the time the hearing happens," Senate Minority Leader Chuck Schumer tweeted Sunday. "Republicans want to keep his record hidden and are going to extraordinary lengths to do so. We still have to ask: #WhatAreTheyHiding?"
Democrats also dug up video from Grassley himself from 2010 in which he demanded Democrats — who then controlled the Senate — not hold hearings on former President Barack Obama's Supreme Court nominee Elena Kagan until all of her documents were released and reviewed.
"In order for the Senate to fulfill its constitutional responsibility of advise and consent, we must get all of [Kagan's] documents from the Clinton Library and have enough time to analyze them so that we can determine whether she should be a Justice," Grassley said in a speech on the Senate floor at the time.
Given Republicans control the Senate — and thus what makes it to the floor for votes — Democrats have limited recourse aside from ginning up public backlash to Kavanaugh's nomination.
But even public backlash likely wouldn't be enough for Republicans to delay confirmation hearings for Kavanaugh.
Ultimately, it looks like Kavanaugh will be confirmed before the Supreme Court returns in October for the new session.
And the rest…
Another one bites the dust: GOP Rep. Chris Collins, who was arrested and charged last week with insider trading, announced Saturday he is not seeking re-election in his Buffalo, New York-based House district. Collins' announcement could create a headache for Republicans, who face laws in New York state that make it hard to get a candidate's name off the ballot. If they can't replace Collins with another candidate, they could risk losing an otherwise heavily Republican seat in a year they can't afford to make any mistakes.
Keith Ellison hit with #MeToo allegations: A former romantic partner of Rep. Keith Ellison (D-Minn.) has come forward to accuse Ellison of domestic violence. It comes days before primary voters head to the polls in Ellison's bid to be Minnesota's attorney general. Ellison denies the allegations, saying in a statement he "never behaved in this way."