Stories That Pay Off: How to set boundaries with your co-workers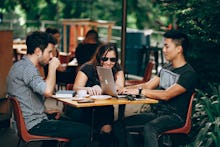 Work friends are invaluable: They can be your comfort, your comic relief and your confidant. But they can also be major distractions who may invest a bit too much energy into office politics. Mic spoke with career experts about how to set ground rules with co-workers in and out of the office so you can juggle that work-life balance a bit more seamlessly.
More this week: We examined the top mistakes to avoid when renting a new place, the repercussions of the Weinstein investigation and why one bakery's less-traditional hiring process should catch on.
Practice these gentle techniques and succinct phrases and avoid the potential awkwardness that can come with work friends.
You're about to sign away thousands of dollars on a new place. Prepare yourself by studying up on these typical blunders.
Unemployment for individuals with criminal records is common — but a New York bakery hopes to tackle this problem with its no-questions-asked hiring practice.
Keeping an accused sexual predator in a corner office finally makes a company less desirable.