More than 100 newspapers will condemn Trump's attacks on the media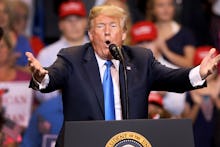 Following an appeal from the Boston Globe, more than 100 publications nationwide are preparing to decry President Donald Trump's characterization of the media as an "enemy of the people."
The Globe is reaching out to newspaper editorial boards to publish opinion pieces Thursday defending journalism, as part of a coordinated response to Trump's repeated attacks on the media, which he frequently refers to as "fake news."
"This dirty war on the free press must end," the Globe's appeal said, the Guardian reported. "Publications, whatever their politics, could make a powerful statement by standing together in the common defense of their profession and the vital role it plays in government for and by the people."
Marjorie Pritchard, the Globe's deputy managing editor for the editorial page, told CNN that the more than 100 publications that had signed up as of Saturday included both major newspapers and smaller publications, with more still expected to sign on.
"The response has been overwhelming," Pritchard told CNN. "We have some big newspapers, but the majority are from smaller markets, all enthusiastic about standing up to Trump's assault on journalism."
Among the larger newspapers include the Houston Chronicle, Miami Herald, Minneapolis Star Tribune and Denver Post, the Associated Press reported. The Globe's pitches were directed at the newspapers' opinion departments rather than its reporters, the Washington Post noted, and each newspaper will write their own editorial.
"The impact of Trump's assault on journalism looks different in Boise than it does in Boston," the appeal said, as quoted by CNN. "Our words will differ. But at least we can agree that such attacks are alarming."
Trump's attacks on the media have extended beyond mere rhetoric in recent weeks, inciting anger at Trump rallies and even causing journalists at Trump events to arrive with bodyguards. The United Nations has warned that Trump's "strategic" and "nonfactual" attacks on the media "increase the risk of journalists being targeted with violence."
"The Fake News hates me saying that they are the Enemy of the People only because they know it's TRUE," Trump falsely claimed in a tweet Aug. 5. "I am providing a great service by explaining this to the American People. They purposely cause great division & distrust. They can also cause War! They are very dangerous & sick!"