FBI fires Peter Strzok in move his lawyer says "should be deeply troubling to all Americans"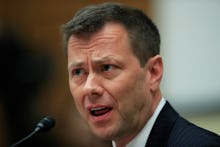 The FBI fired agent Peter Strzok, a 21-year veteran of the law enforcement agency who has come under fire for texts he sent that were critical of President Donald Trump.
Strzok's firing was announced by his lawyer, who said Strzok was fired Friday afternoon, despite the fact an independent review by career FBI officials recommended Strzok be suspended for 60 days and demoted.
"The decision to fire Special Agent Strzok is not only a departure from typical Bureau practice, but also contradicts Director [Christopher] Wray's testimony to Congress and his assurances that the FBI intended to follow its regular process in this and all personnel matters," Aitan Goelman, Strzok's lawyer, said in a statement.
Trump has attacked Strzok on numerous occasions, claiming his texts were proof of anti-Trump bias within the FBI.
However, Strzok had the opportunity to leak the fact the Trump campaign was under investigation during the campaign and never did — undercutting the charge from Trump and his defenders.