Who got fooled on episode 5 of 'Who Is America?' and what did they have to say about it?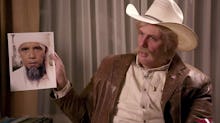 The fifth episode of Who Is America? aired on Showtime Sunday night, and, as we've come to expect, comedian Sacha Baron Cohen showed up in a range of disguises, urging his unwitting subjects to reveal their worst impulses on camera. This most recent episode featured five segments, some more difficult to watch than others.
But how did his guests respond when they realized that the person they met was actually just Cohen wearing a variety of prosthetics? Let's take a look at Cohen's latest batch of victims and their various reactions to being featured on Who Is America?
Jake Inphamous
The first segment of Sunday night's Who Is America? featured Cohen in character as Rick Sherman, an aspiring artist who's newly free from prison. This time, Sherman is meeting with "nightclub promoter and DJ manager" Jake Inphamous to play him some tracks. Sherman says his music uses sounds from his time in prison, including toilets flushing and people getting stabbed — and Inphamous is mostly just nice and supportive, aside from his cringey promise to Sherman that "DJs get BJs."
Inphamous books Sherman a gig at a club, where the audience dances to his prison-themed music and he gets them to cheer for murderers, or something. Jake Inphamous, who seems to also go by Jake Hermelo, according to an unverified Facebook page, appeared to take the reveal that he was actually talking to Cohen in stride, tweeting out a video from his segment on Sunday with the caption, "Your boy is on @Showtime."
Corey Lewandowski
In Sunday night's second segment, Cohen appeared as Billy Wayne Ruddick Jr., an Alex Jones-esque right-wing conspiracy theorist. And Ruddick's guest was former Trump campaign manager and mocker of people with disabilities Corey Lewandowski. Lewandowski mostly didn't take the bait as Ruddick spouted conspiracy theories about PBS, but he didn't exactly call him out either; at one point, he said that neo-Nazis should be allowed to "do a peaceful protest." Mostly, he praised Trump and condemned the lying mainstream media.
Lewandowski was silent on Twitter about his appearance on Who Is America? on Sunday, and he doesn't seem to have spoken about his experience of late — unlike other duped Republican figures like Sarah Palin, who called Cohen "evil, exploitive, sick."
Mahbod Moghadam
In one of the more cringe-inducing segments of Sunday night's episode, Sacha Baron Cohen appeared as photographer and rich playboy Gio Monaldo, who happens to be photographing tech bro Mahbod Moghadam. Moghadam — a co-founder of the site formerly known as Rap Genius (it's since rebranded as Genius) that allows users to annotate song lyrics — was fired in 2014 after he tastelessly annotated a mass-shooter's manifesto. Since then, Moghadam founded a new company.
In his appearance on Who Is America? Moghadam threw up gang signs and grimaced weirdly when Monaldo urged him to pose like a "black guy." Moghadam also seems to have no issues with being edited into a photograph so it looked like he was feeding needy children, or stuffing his crotch to make it look bigger.
Judging from his Twitter account, Moghadam is a bit defensive about his treatment on the show. On Sunday, he responded to someone on Twitter who said Moghadam "seems to be a horrible person." He wrote, "I really wish you would delete this tweet and at least speak to me before saying such mean stuff."
Sheriff David Clarke
One of Cohen's guests on the most recent episode was the hat-wearing sheriff David Clarke, a Trump surrogate known for running the Milwaukee jail where a man died of "profound dehydration" after his water was cut off. Clarke appeared on a segment with Cohen, who was in character as OMGWhizzBoyOMG, a Danish YouTuber who unboxes toys while talking politics. Clarke talked about the dangers of antifa and the importance of using force on protestors as OMGWhizzBoyOMG held up tiny plastic figurines.
Like Lewandowski, Clarke seemed to keep mum about his appearence on Who Is America? on Sunday. Although, as Vulture pointed out on Monday, Clarke's turn on the show was relatively tame compared to other things he's said in normal interviews over the years.
Daniel Roberts
In the final segment on Sunday night's show, Cohen returned as Eran Morrad, an Israeli "terrorism expert." For some reason, the segments with Morrad seem to be the most successful when it comes to getting guests to reveal their worst selves. Maybe it's the accent, or maybe it's the blatant Islamophobia, but Morrad really puts people at ease.
On this episode, Morrad hosts Dan Roberts, the "founder and president of Youth Shooters of America," who has advocated for "firearm education" in public schools. Morrad teaches Roberts some anti-terrorism tricks, which involve throwing a baby doll in a trash can and grabbing a strap-on dildo with his teeth.
Roberts doesn't seem to have spoken out publicly about his appearance on the show, during which he yelled about Tom Clancy novels — but maybe he feels like it speaks for itself.