The #GrabYourWallet co-founder is mobilizing thousands against Twitter over its Alex Jones policy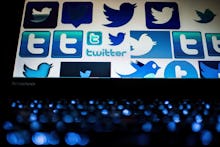 Twitter executives' refusals to ban radio show host and conspiracy theorist Alex Jones from the platform have incited moral outrage and many think pieces across the web. Now, direct action is starting on the platform — a coalition of nearly 50,000 very online people who have pledged to boycott the site's advertisers until it reverses course.
Several mainstream publishers, including Facebook and YouTube, have made headlines in recent weeks for deciding to give Jones — the far-right fake newsmonger most famous for his insistence that the 2012 mass shooting at Sandy Hook Elementary School in Newtown, Connecticut, was a "false-flag" operation — the boot from their platforms.
Twitter CEO Jack Dorsey has opted to stay the course, maintaining even in the face of a massive public outcry that Jones and his fake news peddling website, InfoWars, have "not "violated [Twitter's] rules," according to CNNMoney. Dorsey is insisting that there is a place on the online news and messaging network for the conspiracy theorist and his hateful rhetoric.
Shannon Coulter, the former marketing consultant who helped launch the #GrabYourWallet movement in the fall of 2016, launched a series of — what else? — tweets on Sunday calling upon Twitter users to participate in a mass-block of every Fortune 500 company that advertises with the platform, in an effort to get Jones banned from the site once and for all.
The "#BlockParty500" initiative, as it's now known, offers Twitter users three different options in order to participate in the advertiser boycott. One method involves the use of a third party app, called Block Together, which allows users to block tweets from a curated list of companies, maintained by Coulter, rather than seeking them out on their own.
In a phone interview on Monday, Coulter said that the initiative is catching fire, with participants exceeding a rate of 40 per minute when the campaign first started. On Monday she said that signups via the third party app were hovering at around 38,000, but added that she expected the number of participants to cross the 50,000 threshold later in the day.
"It's been notoriously tricky to protest tech companies over stuff like this in the past," Coulter explained. "There's been some energy around protesting Apple and Google for carrying things like NRATV for instance, but because technology is so interwoven into our lives now, and because a lot of the solutions we're talking about are free, it's just been notoriously difficult to do anything effective, to push back."
While Twitter itself is free for users, about 85% of its yearly revenue comes from advertising dollars, according to BBC News. Coulter said that while a friend initially presented her with a list of some 7,000 of the site's advertisers, she immediately dismissed the idea of including small- to medium-sized businesses in the mass-block, citing a lack of influence within Twitter and low budgets for ad campaigns.
"A Fortune 500 company, though, has an actual relationship with a company like Twitter, so they can actually get on the phone and put real pressure on Twitter to make a change," she said. "When it starts to impact their advertising campaigns, that's when they're going to start to feel the heat."
The debate over whether inflammatory provocateurs like Jones and alt-right stuntman Milo Yiannopoulos merit a place in popular discourse — from college campuses to social media platforms — has become starkly partisan. While some, like Dorsey, argue that banning unsavory characters like Jones quickly becomes tantamount to censorship, Coulter is a member of the camp that believes that the lies that Jones espouses are dangerous. Twitter's refusal to ban him is the metaphorical equivalent to "holding a giant megaphone up to the mouth of the guy who's yelling 'fire' in a crowded theater," she said.
"It's not legal, protected speech," Coulter added, of Dorsey's sanctioning of Infowars and Twitter's "everyone gets a voice" ideology. "In an age when Russia's using social media to hijack our elections and deceptive content about real people is being monetized, it's just not a tenable position."
"If Alex Jones walked into a department store and started ranting about mass shootings being hoaxes, nobody would question that store's right to throw him out," she added.
This isn't the first time Coulter has drawn from an empowered consumer-playbook in order to bring about social change. According to the official lore detailed on the "Grab Your Wallet" website, that initiative was born as a reaction to the now-infamous Access Hollywood tape where President Donald Trump can be heard bragging about his ability to "grab [women] by the pussy."
Incensed by the idea that she would be forced to continue to do business with companies that supported Trump, Coulter, in conjunction with another woman, Sue Atencio, began building an online database that includes the names of companies and brands that have helped to line the pockets of the president and his family. This serves as a "centralized resource for the flexing of consumer power in favor of a more equitable, inclusive society."
That campaign has seen undeniable success since its inception, inspiring dozens of high-profile companies — including Nordstrom, Neiman Marcus and Carnival Cruise — to cut ties with the Trumps. But Coulter said that the boycott of Twitter's advertisers — which can be reversed for all participants with the single click of a button by Coulter, if the company actually does decide to change its position — is less about "naming and shaming" and more about a genuine love for the platform itself.
"I think people are fighting so hard to change Twitter right now because of how much they love it," Coulter said. "I don't think you protest something unless you really appreciate it on some level. It's about helping a company we love evolve to be a better one."