The Hudson River isn't as gross as you think: What a huge oyster says about the quality of NYC water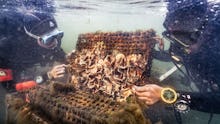 To some New Yorkers, taking a dip in the Hudson River sounds a lot like diving headfirst into a dumpster. But a recent discovery in the river reveals water restoration efforts are working — and the Hudson may be cleaner than it has been in some time.
In July, a construction worker at Pier 40 in lower Manhattan discovered an 8-inch oyster in the river, CBS New York reported. The mollusk is the largest found in the Hudson in a century and it's estimated to be 10 to 15 years old.
Given the 27 billion gallons of raw sewage and polluted stormwater that enter the Hudson River every year, you probably won't be finding local oysters at a supermarket anytime soon. But the discovery is still a sign of progress, Melissa Rex, a director of education at the River Project, said.
"It's great news," she said. "It means our water is clean enough to sustain them. And it shows that oyster restoration efforts are potentially working."
Cleaner waters could mean a return to commercial oysters straight from the Hudson River in the future.
The Hudson River once had a thriving oyster population
People once flocked to public beaches and bathed in a number of floating public baths along the Hudson River — without fear of needing a hazmat suit. During this time, New York City was widely considered the oyster capital of the world. Oysters were so common that actual buildings incorporated oyster shells in their construction and "oyster cellars" became a New York institution, where customers could eat all the oysters they wanted for the low price of 6 cents — a far cry from the prices we pay in current times.
In the 17th century, New York waters contained over half the world's oyster population. "You could walk out onto the [Hudson] river, pick up a few oysters and feed your family that night," Mike Dulong, a senior attorney at Riverkeeper, said.
But pollution, along with overharvesting, resulted in a rapid decline of oyster populations. By 1927, the last oyster fishery shut down and New York's reputation as oyster capital came to an end.
Pollution also led New Yorkers to stop swimming in the Hudson River with the amount of sewage entering its waters. From the 1920s on, factories dumped millions of pounds of chemicals into the Hudson until 1977, when the pollution was banned.
Efforts to stop pollution in the Hudson River are working
Because of the Clean Water Act of 1972, which regulated pollution and quality standards for water in the United States, the water quality in the Hudson River has dramatically improved over the last 50 years, Dulong said.
According to a survey by the New York City Department of Environmental Protection, by 1987, bacteria levels had dropped in many areas of the New York Harbor, where the Hudson River meets the ocean, by 99%.
In fact, a report by the Department of Educational Protection in 2017 found the New York Harbor cleaner than it has been in over a century — so much so, that it is safe enough for people to swim in it at times. At least 100,000 people depend on it as a water supply.
With sewage still entering the harbor every year, however, there's a lot of work to be done, Dulong said, and legislation around improving New York's water treatment plants is urgent.
The oyster discovery is promising for future of the Hudson River
In 2016, United States Interior Department's Hurricane Sandy Coastal Resiliency Competitive Grant Program provided a $1 million grant in effort to restore oysters in the New York harbor.
Twenty-six million oysters have now been planted in the New York Harbor, according to the Billion Oyster Project website, which is just a small fraction of the project's proposed goal of 1 billion. With ongoing improvements in water quality, a number of organizations like Riverkeeper are campaigning for beaches and floating pools to return to Manhattan's shoreline. In 2008, a floating pool was even installed along the East River.
Dulong hopes an overall awareness of the issues in the Hudson River will help push legislators into making more improvements in its water quality. "We don't look at our waterways as places for recreation," he said. "Doing that will take a shift in the perception of how we use them and what we want out of our city."
And for New Yorkers, a cleaner Hudson River could mean an escape from summer's sweltering heat — or just the office — so long as they're willing to overlook it's grimy, longstanding reputation.