Ruby Rose quits Twitter after fan backlash over her casting as the new Batwoman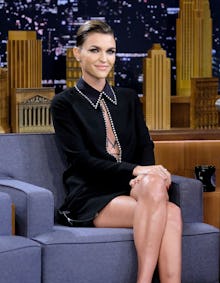 Ruby Rose has officially quit Twitter: Rose deactivated her account less than a week after news broke that the Australian actor had been cast to play a canonically lesbian Batwoman on the CW.
As BuzzFeed News reported Monday, Rose's casting led to a fan uproar, with some people deriding her acting abilities and implying she was too obvious a choice, and had been chosen for the role because of the dearth of high-profile lesbian actors in the industry. And on the other side of things, people like right-wing blogger Matt Walsh mocked the idea of a "lesbian SJW Batwoman."
Some of the fan response centered on the detail that the latest comic book incarnation of Batwoman, aka Kate Kane, is both out as a lesbian and is Jewish — so some claimed that casting a non-Jewish actor like Rose was a form of erasure.
On Twitter, fans who felt that Rose was a poor choice to play Batwoman began tossing out names of actors they felt could do it better, including Ashley Platz, whose audition tape for the role was reportedly leaked. A petition to replace Rose with Platz garnered a few hundred signatures — and Platz eventually weighed in to say she appreciates the support but "this role means a lot to Ruby ... she will work her ass off to fulfill the character."
And then there were the online criticisms that Rose, who identifies as genderfluid, was somehow not gay enough to play the role of Batwoman — a critique Rose herself addressed in one of her final tweets before deactivating her account.
"Where on Earth did 'Ruby is not a lesbian therefore she can't be Batwoman' come from — has to be the funniest most ridiculous thing I've ever read," Rose tweeted, according to the Hollywood Reporter "I came out at 12? And have for the past 5 years had to deal with 'she's too gay' how do y'all flip it like that?"
Rose said she was going to take a "break from Twitter to focus all my energy on my next 2 projects," adding, "If you need me, I'll be on my Bat Phone."