Movement Must-Reads: Dispatches from Unite the Right 2, 'BlacKkKlansman' and Crop Over in Barbados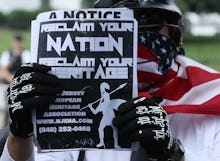 The anniversary of the deadly 2017 white supremacist rally in Charlottesville, Virginia, was commemorated this weekend with anti-racist counterprotests and a second so-called "Unite the Right" rally in Washington, D.C. Movement reporter Chauncey Alcorn was on the ground for both events.
Read on for more.
From Mic:
Chauncey Alcorn with two pieces from his trip to Charlottesville, Virginia, and Washington, D.C., during the one-year anniversary of 2017's "Unite the Right" rally this past weekend.
Erin Evans interviewed BlacKkKlansman star Ashlie Atkinson — who plays a villain in the film, but in real life, "wants white people to wake up" to the realities of white supremacy.
Stacy-Ann Ellis on the history and sociocultural significance of Crop Over, Barbados' massive annual harvest festival and celebration.
And A.T. McWilliams on a new amendment introduced in the California Senate that would require police to exhaust all other options — like de-escalation tactics — before resorting to deadly force.
From elsewhere:
A devastating op-ed at Politico on Stephen Miller's hypocrisy regarding immigration, written by his uncle, David Glosser.
Analysis from the Atlantic's Adam Serwer on the successful mainstreaming of alt-right views since the first Unite the Right rally in Charlottesville last summer.
And the New Republic with a look at how the Democratic Party is making a possibly-fatal mistake by failing to pour resources into mobilizing Latino voters.
That's all for now. Until next week.
— Zak Cheney-Rice, Editor, The Movement