Mic Daily: Newspapers condemn Trump's attacks on the media, the FBI fires Peter Strzok and more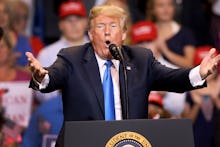 Welcome to Mic Daily: Mic's newsletter that cuts through the noise and lands in your inbox every weekday. We carefully curate each edition to send you a cross section of our most vital stories of the day. Want to receive this as a daily email in your inbox? Subscribe here.
Want more entertainment news in your inbox? Sign up for Hype Daily — Mic's morning entertainment roundup. It's got all the news you need to start your day.
Following an appeal from the Boston Globe, more than 100 publications nationwide are preparing to decry President Donald Trump's characterization of the media as an "enemy of the people."
BlacKkKlansman, which hit theaters Friday, is based on the true story of Ron Stallworth, a black police officer who infiltrated a KKK chapter in Colorado Springs, Colorado, in the 1970s. Ultimately, Connie becomes a key player in one of the most vile, most racist, most violent acts in the film: accusing Stallworth of rape as he tries to arrest her for plotting to kill local black activists.
With U.S. Supreme Court nominee Judge Brett Kavanaugh's Senate confirmation hearing just three weeks away, a battle is continuing to play out over the paper trail documenting his lengthy government career.
The FBI fired Peter Strzok, a 21-year veteran of the law enforcement agency who has come under fire for texts he sent that were critical of President Donald Trump.
In southern Appalachia — the mountainous region that stretches from West Virginia to Mississippi — the trendiest food movements are nothing new. Farm-to-table cuisine, whole animal meals and preserved vegetables are practices that go back generations, to a time when using the local bounty and canning foods throughout the year was done out of necessity, not an evolving public moral consciousness.