A new report says traces of Monsanto pesticide found in many popular, oat-based breakfast foods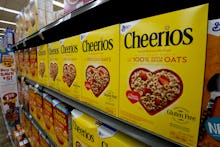 While it's not printed anywhere on their ingredients list, some of America's most popular breakfast foods contain pesticides. On Wednesday, the Environmental Working Group published a report from a commissioned laboratory test of 45 products made with oats, finding glyphosate, an herbicide that has been linked to cancer, in nearly all of them.
Glyphosate is the most-widely used herbicide in the U.S., Alexis Temkin, EWG's toxicologist, said in a phone interview. The tested products — which include popular brands like Cheerios, Lucky Charms and Quaker — do not violate the legal limit of glyphosate set by Environmental Protection Agency. The EPA has its own regulations for the amount of the herbicide it says is safe to consume, but there's a lot of controversy here: California's Office of Environmental Health Hazard Assessment proposes a glyphosate exposure level that is more than 60 times lower than the level set by the EPA. The EWG's measurements are even lower, as the group considers the fact that children are more susceptible to carcinogens.
The EWG advises a safety benchmark of 160 parts per billion of glyphosate. As the chart below shows, many products fall beneath that amount, including Nature's Path Organic Old Fashioned Organic Oats, Kellogg's Nutrigrain breakfast bars and Kind's Vanilla Blueberry granola and Oats & Honey snack bar. Products from brands like Cheerios and Quaker exceeded the EWG's threshold but still fall within the EPA's regulations.
Glyphosate, which has been identified as a "probable carcinogen" by the World Health Organization, is the main ingredient in Roundup, Monsanto's weed killer that's at the center of a recent lawsuit in which a California jury ordered Monsanto to pay $289 million to a man dying of cancer. The plaintiff, 46-year-old Dewayne Johnson, says his terminal cancer was caused by continuous exposure to large quantities of Roundup and other glyphosate-based weed killers while working as a school groundskeeper, the Guardian reported. The lawsuit surfaced evidence that shows Monsanto has known about the potential risk of the herbicide since the early 1980s. In an email, a spokesperson for the EPA said the agency believes glyphosate "is not likely to be carcinogenic to humans" and is currently reviewing public comments in response to its draft assessment published in December 2017.
In the chart published by EWG, a sample of Quaker's Old Fashioned Oats was found to have 1,300 parts per billion of glyphosate, the greatest amount found within the 45 products tested.
"Quaker does not add glyphosate during any part of the milling process," a spokesperson from Quaker said in an email. They continued:
Glyphosate is commonly used by farmers across the industry who apply it pre-harvest. Once the oats are transported to us, we put them through our rigorous process that thoroughly cleanses them (de-hulled, cleaned, roasted and flaked). Any levels of glyphosate that may remain are significantly below any limits and well within compliance of the safety standards set by the Environmental Protection Agency (EPA) and the European Commission as safe for human consumption.
It's the EPA that makes the final call, which may be problematic in itself, considering the agency has been accused of helping Monsanto bury cancer research associated with glyphosate. "There's a considerable amount of evidence in academic literature [that show] the safety levels from [the] government [are] really outdated," Temkin said.
The Natural Resources Defense Council, too, has urged the EPA to reassess glyphosate's risks. "Since the last ecological risk assessment was completed for glyphosate in 1993, its use has skyrocketed, resulting in glyphosate being the most widely used pesticide in the U.S.," the Council wrote in April. "In that time, mounting evidence has pointed to adverse human health effects." The NRDC is not alone in its thinking. "[The EWG thinks] the EPA's limit allows way too much glyphosate in the American diet," Olga Naidenko, the EWG's senior science advisor, said in a phone interview.
The risks associated with glyphosate
One 2017 study found that expectant mothers with greater glyphosate exposure had shorter pregnancies and gave birth to babies with lower birth weights. Research has found that babies with low birth weights are at a higher risk for a host of health conditions, including diabetes, heart disease and obesity. Another study performed on rats found that animals fed low levels of glyphosate throughout their lives were more likely to develop nonalcoholic fatty liver disease. Studies have also linked pesticides with risks for brain cancer in children, chronic kidney disease and respiratory illnesses.
It's worth highlighting the devil's advocate here. "The list of potential and probable carcinogens is extremely long, and it includes things like fried foods, skewed patterns of sleep caused by working at night, burning fires and many products we eat and use every day," the New Yorker's Michael Specter wrote in 2015. In other words, just because something is deemed a possible carcinogen does not mean it will give you cancer. "It should also be noted that people use glyphosate for good reasons," Specter continued. "Glyphosate is far less toxic than the pesticides it normally replaces, and it greatly reduces soil erosion by limiting the need to plow fields."
Pesticides in breakfast foods
Conventionally grown oats are sprayed with glyphosate "right before harvest to basically kill the plant," Naidenko said. Unfortunately, there's no easy way for consumers to distinguish products contaminated with glyphosate and those without. In its testing, the EWG examined 16 samples made with organic oats. Five of the samples had detectable traces of glyphosate, including samples from Nature's Path Organic Old Fashioned Organic Oats and Bob's Red Mill Organic Old Fashioned Rolled Oats. These samples contained glyphosate amounts, but were below the EWG's 160 parts per billion benchmark.
While organic products are typically considered to be pesticide-free, they could be grown in a field near conventionally grown oats and become contaminated, Temkin said. She explained that "in general, organic products will have lower levels of glyphosate compared to conventional ones," but it's not guaranteed because of the herbicide's wide use. More than 250 million pounds of the stuff are sprayed on U.S. crops every year.
Where to go from here
Whether or not it definitively causes cancer, most people arguably do not crave a "probable carcinogen" mixed in with their breakfast food. But nixing all foods potentially contaminated with glyphosate is probably impossible. "We understand in the real world, we cannot stop all glyphosate use tomorrow — our agriculture is really addicted to this chemical product" said Naidenko. "But it is possible to use harvesting techniques that don't use herbicide."
Naidenko said the onus is on food brands and farmers to cut out the herbicide. Temkin added that one of the purposes of this report is to "emphasize to companies that they need to look into their supply chains and try to source from farmers in areas that aren't using this kind of glyphosate treatment." As for consumers, "People can and should go to companies and let them know their opinion," said Naidenko.
Aug. 15, 2018, 5:06 p.m.: This story has been updated.