Hype Daily: An Aretha Franklin update, Azealia Banks in Elon Musk's house and more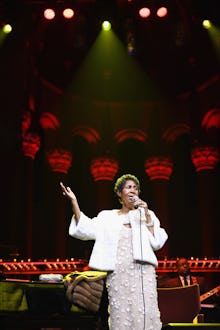 Welcome to Hype Daily, Mic's morning entertainment roundup. Here's everything you need to catch up on in the entertainment world and what to look forward to today. Want to receive this as a daily email in your inbox? Subscribe here.
Aretha Franklin is reportedly in hospice care
News broke Sunday that legendary singer Aretha Franklin was ill, leading to a flood of support and well wishes on social media. On Tuesday, CNN reported the 76-year-old performer is in hospice care in her home. As CNN reported, Franklin stayed private about her health struggles, but she canceled performances earlier this year on "doctor's orders."
Franklin, aka the Queen of Soul, is an icon in every sense of the word. Her career spans more than half a century. She was the first woman to be inducted into the Rock and Roll Hall of Fame, and she performed at Dr. Martin Luther King Jr.'s memorial service and at the inaugurations of three U.S. presidents.
We're thinking of you, Aretha.
Azealia Banks Instagrammed a bizarre story about being in Elon Musk's house
In extremely strange celebrity news, rapper Azealia Banks posted on her Instagram over the weekend she was in Elon Musk's house, apparently waiting to work with musician Grimes, who is dating Musk. "I waited around all weekend while grimes coddled her boyfriend," Banks said on Instagram, according to Business Insider. "staying in Elon musks house has been like a real [life] episode of Get Out."
Well, Get Out was a movie, not a TV show, but I hear what you're trying to say. Banks apparently posted a bunch of other things about Musk and Grimes on her Instagram story, including a lot of insults. Musk, for his part, told Gizmodo Monday he "has never even met [Banks] or communicated with her in any way." So it's not clear what actually happened. Honestly, we may never know the real story, but that's probably for the best.
Disney cast a straight actor to play a gay character
The Sun reported Sunday British actor Jack Whitehall may play an out gay character in the upcoming Disney film Jungle Cruise. Sources told the U.K. paper Whitehall's character is "hugely effete, very camp and very funny." If the character is really out as gay, it would be a groundbreaking change for Disney. The only problem is Whitehall is straight, and the news that a straight actor might play Disney's very first out gay film character sparked instant internet backlash.
But neither Whitehall's role in the film nor details of the character have been confirmed, so it's not yet clear if outrage is warranted.
Take a peek at the new live-action Mulan
Speaking of Disney, the company revealed an image of Liu Yifei, the star of the upcoming live-action Mulan, in character as the heroine. Check out the image here. Yifei earned the role of Hua Mulan after a "year-long search around the world," Entertainment Weekly reported. The upcoming live-action film will have the same general plot as the 1998 animated film — and, I hope, some of the same songs.
Put this on your radar: To All the Boys I've Loved Before
The new Netflix original movie To All the Boys I've Loved Before premieres on the streaming service Friday. It's based on the young adult novel of the same name and stars Lana Condor as a teenager whose secret love letters accidentally get mailed to all her crushes. If you need a bubblegum teen movie to cleanse your week of bad energy, this could be a perfect option. Check out the trailer here.