Today in Trump's America: Omarosa continues to plague the Trump White House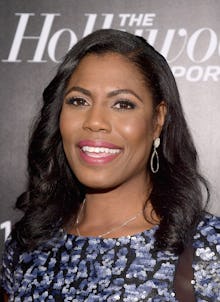 Welcome to Mic's daily read on Donald Trump's America. Want to receive this as a daily email in your inbox? Subscribe here.
Good morning from Emily Singer at Mic.
Check out Mic Dispatch, Mic's new show reporting on the problem-solvers and the provocateurs in our changing world. Subscribe here for alerts on new episodes airing Tuesdays and Thursdays, 8 p.m. Eastern, on Facebook Watch.
Here's what's happening in Trump's America:
• It's another primary day in this year's midterm elections. Voters in Connecticut, Minnesota, Vermont and Wisconsin head to the polls to select their nominees for key November contests.
About last night: Omarosa continues to plague the Trump White House
Once a reality television villain, always a reality television villain.
Former Apprentice contestant turned White House aide Omarosa Manigault Newman's press tour for her new book continues, as she makes explosive allegations about Trump and claims to have more recordings of other White House staffers — including Ivanka Trump and her husband, Jared Kushner.
On Monday, Manigault Newman released audio of who she says is Trump acting surprised she was fired. She also continues to talk about the long-rumored tape from the Apprentice where Trump is alleged to have used the N-word. HuffPost reported late Monday night Manigault Newman now says she heard the tape in the White House.
Unfortunately for the Trump administration, Manigault Newman's book tour comes in the dog days of August when other political news is scarce, as Congress is out on recess. The otherwise slow news cycle gives her media tour more oxygen than it might get any other month.
Even worse for the administration — Trump himself watches cable news and seems to be unable to stop himself from responding. The president sent out a series of tweets attacking Manigault Newman Monday calling her a "lowlife" and "wacky." He continued that attack Tuesday morning, referring to her as a "dog."
"When you give a crazed, crying lowlife a break, and give her a job at the White House, I guess it just didn't work out," Trump tweeted. "Good work by General Kelly for quickly firing that dog!"
Today in Trump's America: It's another midterm election primary day
It's a Tuesday in August of a midterm election year, which means only one thing: Voters will be voting!
American voters will select their nominees in key races in Connecticut, Minnesota, Vermont and Wisconsin Tuesday — the outcome of which could have key implications for control of Congress and redistricting in 2020.
Here are the races to watch:
Wisconsin governor: Democrats will choose their nominee to take on GOP Gov. Scott Walker Tuesday. While Walker has won his previous elections by comfortable margins, those victories took place in strong years for Republican candidates. 2018 likely won't be one of those years, and polling shows he's vulnerable to being picked off in November.
Democrats, however, have a crowded primary in their side of the gubernatorial election with eight candidates vying for the chance to take Walker on this fall.
The few public polls of the primary show Democrat Tony Evers, the head of Wisconsin's public education system, leads the pack. Polls show in a head-to-head matchup, Evers leads Walker by an average of 5.4% — an outcome that would send shockwaves through the state and give Democrats control of the governor's mansion for 2020 redistricting. That's key for the party, as Republicans drew a congressional map in 2010 that gave Republicans control of a majority of the state's House seats, despite the fact the state is purple.
Other Democrats are running as well, including Mahlon Mitchell, a firefighter and union president, and Kelda Helen Roys, a former state Assembly member.
Minnesota governor: Democrats hope to hold onto the governor's mansion in Minnesota, which is being vacated by retiring Democratic Gov. Mark Dayton.
Like Wisconsin, Minnesota has a crowded field of candidates, which includes Democratic Rep. Tim Walz, state Attorney General Lori Swanson and state Rep. Erin Murphy.
Polling has been scant in the race, but a public survey from Emerson College released Monday showed Swanson and Walz are neck and neck, with Murphy in a distant third.
Minnesota attorney general: There's a crowded Democratic field in the primary for state attorney general.
Democratic Rep. Keith Ellison is viewed as the favorite in the race. However, a former romantic partner of Ellison's threw the race into chaos this week after she alleged Ellison was domestically violent toward her in their past relationship.
Ellison denies the allegations, and it's still unclear whether they will upend his bid.
Vermont governor: Democrats in Vermont could help make history Tuesday night by nominating Christine Hallquist as their gubernatorial nominee.
If Hallquist wins the primary and then the general election, she'd be the first transgender governor in the country.
Hallquist is running on a message similar to her state's popular senator, Bernie Sanders, saying she backs Medicare for all, free public college education and livable wages.
And the rest…
Prosecution rests in Manafort trial: After 10 days, the prosecution says it has made its case against Manafort. The final witness prosecutors called pertained to a case of alleged bank fraud in which a Chicago banker is accused of giving Manafort a loan he didn't qualify for in exchange for a high-level position in the Trump administration.
The banker, Stephen Calk, wanted to be secretary of the Army, but sent Manafort a list of other "perspective rolls" (yes, that's how he spelled it) he would also want, including secretary of Commerce, secretary of Housing and Urban Development and deputy secretary of Defense as well as a number of plum ambassadorships. Calk did not receive any of the appointments, but Manafort did send the list to Trump's son-in-law, Jared Kushner. Now it's Manafort's defense team's turn to make its case.