Manafort's defense rests in financial fraud trial without calling a witness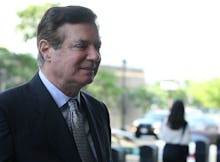 Paul Manafort's defense team rested Tuesday without presenting a case nor calling a single witness, after the judge presiding over the case rejected a motion to acquit President Donald Trump's former campaign manager.
"The defense makes a significant argument about materiality, but in the end, I think materiality is an issue for the jury," U.S. District Judge T.S. Ellis III reportedly said in court Tuesday on the 11th day in court. "That is true for all the other counts … those are all jury issues."
Manafort, who ran the Trump campaign during the summer of 2016, declined to testify in his own defense.
The decision by the defense to rest Tuesday came a day after prosecutors concluded their financial fraud and tax evasion case against Manafort on Monday.
The prosecution rested Monday after outlining an alleged attempt by Manafort to secure a Trump administration job for a Chicago banker who approved a $16 million loan for him.
According to a November 2016 email exchange entered as evidence by prosecutors Monday, Manafort emailed Jared Kushner, Trump's son-in-law and senior adviser, to encourage him to give a senior administration post to banker Stephen Calk.
"On it!" Kushner replied.
Calk allegedly gave Manafort a $16 million loan that he didn't seem to qualify for in exchange for a possible high-ranking job in the nascent Trump administration. Calk never got the job, but the exchange appears to indicate that Manafort continued to make contact with members of Trump's inner circle — even after he left the campaign in August 2016 amid intense public scrutiny over his shady international lobbying work on behalf of pro-Russian interests in Ukraine.
Manafort's dealings with Calk also provide yet another window into Manafort's alleged financial fraud as his legal team prepares to mount its defense.
Calk, who served as an economic adviser to Trump during his presidential campaign, wrote to Manafort after the election with a list of eight administration roles and 19 ambassadorships he would be interested in holding in the new administration. In the email, released by prosecutors on Monday, Calk indicated he was most interested in serving as secretary of the Army, but would also be interested in serving as the deputy treasury secretary or as secretary of commerce. His preferred ambassadorship was to the United Kingdom, he wrote.
"Mr. Calk willingly risked his national professional and personal reputation as an active, vocal, early supporter of President-Elect Trump," read one attachment outlining his qualifications. "Mr. Calk understands the secretary of the Army serves at the pleasure of the secretary of defense and the president. Consequently, he (and the department) will always display the same undying loyalty to those two entities."
That month, Manafort wrote to Kushner, encouraging him to find a "major appointment" for the "active supporter" of Trump.
At the same time, Calk, who has not been charged with a crime but has been characterized by prosecutors as an unindicted co-conspirator, approved loans for Manafort to the tune of $9.5 million in November 2016 and $6.5 million in January 2017, coinciding with Trump's election and inauguration, according to CNN.
James Brennan, a vice president at Calk's Chicago bank, Federal Savings, testified in court the bank was aware Manafort had lied about his finances to obtain the loans but proceeded anyway because of Calk.
"If I had my recommendation ... the loan would not be made," Brennan said Monday.
It isn't clear if Trump's team ever considered Calk for the Army secretary position or any other administration positions, and it's not clear if Kushner knew of Calk's financial association with Manafort when he responded to his recommendation.
Prosecutors on Monday rested their case after 10 days and 27 witnesses. Manafort's defense rested Tuesday morning without calling a single witness.
Closing arguments will begin next, followed by jury deliberations.
Convictions on some of the 18 charges he's facing in a Virginia court could land the 69-year-old in prison for the rest of his life.
Manafort is also facing trial in Washington, D.C., in September.
He and his longtime associate, Rick Gates, were indicted by special counsel Robert Mueller in October. Gates cut a plea deal with Mueller in February and has been the prosecution's star witness in their case against his former boss, while Manafort's attorneys have sought to undermine his credibility and shift the blame to him — a strategy analysts say is unlikely to succeed.