After her win in Vermont, Christine Hallquist could be first transgender governor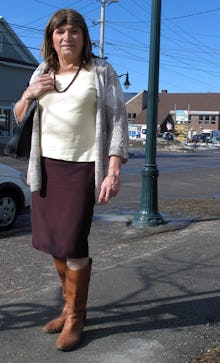 Christine Hallquist won a Democratic primary for governor in Vermont Tuesday, putting her one step closer to becoming the first transgender governor in American history.
Hallquist defeated a crowded field of Democratic contenders to capture the nomination. She won with 47.6% of the vote, with 47% of precincts reporting, according to the New York Times.
She's one of a handful of transgender politicians running for office since President Donald Trump's election. In Virginia, Danica Roem became the first out transgender person to be elected to the state legislature. And in Minnesota, Andrea Jenkins became the first openly transgender black woman to be elected to public office, after she won a seat on the Minneapolis City Council in 2017.
With her win, Hallquist goes on to face Republican Gov. Phil Scott.
Scott managed to win the gubernatorial election in 2016 as a Republican, despite the fact Hillary Clinton carried the state at the presidential level with 61% of the vote. However, he has seen his approval rating plummet in recent months after he signed gun control legislation into law that raises the age to purchase firearms, bans bump stocks and limits the number of magazines people can possess.
Still a few months from election day political handicappers rate the governor's race as solid Republican — meaning Hallquist has an uphill climb to victory in November.