By giving full benefits to its hourly workers, The Wing is practicing the feminism it preaches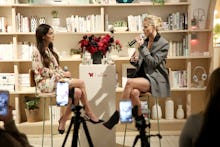 The idea was simple, and its success was instantaneous: a women-only coworking space. Since it opened in October 2016, The Wing has offered its members well-designed private and public work spaces in New York City as well as coffee, showers and a lactation room. Features in outlets like the New York Times' Styles section and Vogue as well as celebrity-led events propelled the concept to stunning success, and three other locations have opened with seven more on the way in cities like London, Paris and Toronto.
The number of Wing employees has skyrocketed thirtyfold in the last year, and this week CEO and cofounder Audrey Gelman announced a change in policy: Most part-time staffers, including line cooks, baristas, bartenders and cleaners will be made full-time and receive full medical benefits, including paid maternity leave. Wages will be raised to a minimum of $16.50 per hour, and employees will receive stock options. Remaining part-time staffers will still receive health benefits and the higher wage.
"As a growing employer with a majority female workforce, The Wing's goal is to provide sustainable, safe, good-paying jobs with benefits to our community of dedicated employees," Gelman said in a release. "And as a mission-driven company, it's only right that our internal policies are reflective of that and the kind of world we [want] to live in."
The company is putting its money where its mouth is, so to speak. It's the latest example of women-led startups aimed at women demonstrating their feminist bonafides with their own corporate policies.
In May, Rent the Runway CEO and co-founder Jennifer Y. Hyman confessed in a New York Times op-ed the company previously offered different benefits for different "classes" of employees, with paid maternity leave and sick days for full-time "corporate" staff but not for warehouse workers. "I have a deeper understanding now than when I founded Rent the Runway about the ways these missing safety nets contribute to unemployment and limit social mobility," she wrote, announcing an update in company policy. "It's time for business leaders to step up and fulfill not only their fiduciary duty to shareholders, but also their moral duty to society to treat every worker equally."
In an email to Mic, Gelman stressed the importance of parental leave in particular. "As a company made for women, led by women — providing paid family leave for new parents on our staff is crucial," she said. "Going back to our guiding principles of empowering and advancing women, providing new parents financial security and time off work when taking care of newborns is imperative and something we're proud to support."
Of course, it's not a female-led phenomenon to offer stellar benefits, but the startup and tech worlds have made some of the biggest strides in this area. Companies like Google and Facebook don't really need amazing perks to attract talent, but life-changing benefits like fundamentally high wages and coverage of egg-freezing certainly doesn't hurt.
Still, companies can choose to enact whatever draconian employment policies they want — take, for example, the harrowing conditions reported by Amazon employees. Blessedly, some want to help. "We hope that more companies join us in this effort," Gelman said. Here's hoping indeed.