Milo Yiannopoulos and Steve Bannon spoke in Hungary — it cost $60K, seemingly in taxpayer money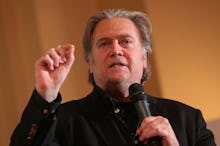 BUDAPEST, Hungary — The cost of getting Milo Yiannopoulos and Steve Bannon to Hungary for hourlong speeches in Budapest in May was upwards of $60,000 — including a $20,000 speaking fee for each, or nearly the equivalent of four years of low-skilled labor in the Central European country — according to contracts obtained by Mic. And some of the funds came from Hungarian taxpayers.
The contracts created for Yiannopoulos' and Bannon's appearances were given to Mic by the head of Hungary's opposition party and via an information request, respectively. The documents detail the agreements between the two men — key figures of the so-called alt-right who were formerly affiliated with Breitbart — and the Public Foundation for the Research of Central and East European History and Society, or PFRCEEHS, a publicly funded organization whose website says it performs "government tasks related to the protection of educational and the cultural goods." The foundation is led by Mária Schmidt, an ally of Hungary's newly re-elected Prime Minister Viktor Orbán, who is often described as an autocrat.
Bannon and Yiannopoulos were each slated to be paid $20,000 for hourlong speeches by the organization, which promised to pay "the costs associated with appearing at" their respective speeches. These costs included roughly $12,000 for Yiannopoulos' and an associate's plane tickets, and roughly $12,000 more for the costs of Bannon and his staff to stay at a five-star hotel for four nights, along with various food and catering charges, according to invoices from the Kempinski Hotel Corvinus in Budapest provided to Mic as a result of the information request.
The over-$60,000 total does not include the price of plane tickets for Bannon and his staff. Hungarian authorities told Mic the PFRCEEHS did not pay Bannon's airfare, although the contract does state the foundation will pay for "two first-class and two business-class one-way airplane tickets with priority passes." The documents do not reveal the cost of Yiannopoulos's accommodation, either, though he and his associate were promised "3 nights in a 4 (four) star hotel … including breakfast."
Hungarian watchdog journalism site and NGO Atlatszo reported that tax funds were used to pay Yiannopoulos' expenses, though this could not be independently verified by Mic. Hungarian authorities have not responded to questions about the source of funds for costs related to Bannon's travel and speaking fees. A Hungarian government spokesperson told Mic that Bannon and Yiannopoulos were invited by the PFRCEEHS. Mic was unable to confirm whether PFRCEEHS takes private donations.
Bannon spoke at a May 23 event celebrating Hungary's presidency of the Visegrad Four group, which also includes Slovakia, Poland and the Czech Republic. At the event, Bannon extolled Orbán, Hungary's prime minister who convincingly won re-election in April, for stating after his victory that he wanted to forge an "old-school Christian democracy rooted in the European tradition."
Bannon chose not to include post-election quotes from Orbán about not wanting Hungarians to have relationships with immigrants that would create a "multicolored country."
Yiannopoulos, meanwhile, spoke at an event independent of the V4 ceremonies, where he also commended Orbán and said "mainstream Islam" is Western civilization's "greatest threat."
"It's outstanding," said Heidi Beirich, head of the Southern Poverty Law Center's Intelligence Project and an expert in white supremacist extremism. Beirich said she was unaware of European government funds being paid to international far-right personalities or figures in modern history.
"It's like they're trying to create the equivalent of the far-right Communist International," she added.
A struggling movement
Bannon has admitted as much. In July, the former White House strategist told the Daily Beast he is creating a pan-European far-right nationalist foundation called "The Movement," which is to be based in Brussels. The foundation is intended to serve as a "central source of polling, advice on messaging, data targeting and think-tank research," in order to attract a third of the lawmakers after 2019 elections, according to the report. The push for a unified movement of Europe's anti-immigrant far-right comes on the heels of a series of defeats for the U.S. alt-right — a loosely collected group of white supremacists and neo-Nazis — including some suffered by Bannon and Yiannopoulos.
Meanwhile, the Trump administration has signaled a move toward stronger relations with Orbán. In July, the State Department deferred an estimated $700,000 grant toward "objective media" in Hungary. The grant, offered in November, was seen as a provocation by Orbán's administration. President Donald Trump "thinks that Orbán is a very strong leader," Trump's longtime friend and the new U.S. Ambassador to Hungary David B. Cornstein told the New York Times. "Our president admires strong leaders and looks forward to this relationship going forward," he said.
The two became major players in the far-right movement through right-wing nationalist platform Breitbart, which championed the campaign of President Donald Trump and published flattering articles about white nationalist and alt-right figures. Bannon was the executive chairman of Breitbart before his brief stint in the White House, becoming one of Trump's senior advisers in 2016.
At the same time, Yiannopoulos was the site's rising-star tech editor. The 33-year-old's career stumbled in early 2017 after the surfacing of comments in which he appeared to condone pedophilia and email chains from his time at Breitbart in which he conferred with alt-right and neo-Nazi figures.
Bannon departed the White House in August 2017, a week after the white nationalist rally in Charlottesville, Virginia, where counterprotester Heather Heyer was killed and dozens of others were wounded. The events in Charlottesville motivated many self-proclaimed anti-fascist counterprotesters, who soon began a nationwide campaign to disrupt white nationalist events, which many say has been effective.
The alt-right has "taken some hits," Beirich said, citing these and other issues, including the suspension of white nationalist accounts on PayPal and Patreon, two crowdfunding services, as well as infighting.
"The movement is in very bad disarray right now," Beirich said.
The stars of both Bannon and Yiannopoulos may have "fallen" in the United States, Beirich said, but "political dynamics across the world are in their favor."
The far right in Hungary
The EU has seen a resurgence of far-right parties in recent years, particularly after the refugee crisis of 2015. These parties have earned increasingly successful election results. Perhaps no other government has heralded this resurgence as heavily as Orbán, the Hungarian prime minister.
Orbán has been a thorn in the EU's side since he assumed office in 2010, leading campaigns against the EU for its refugee placement quotas and their alleged supporter, George Soros, a Jewish Hungarian-American billionaire who helps fund liberal civil society organizations that provide aid to asylum seekers.
It's a campaign some have criticized as Islamophobic and anti-Semitic. Orbán has said Soros' goal is creating a "mixed, Islamised Europe" by ushering in migrants.
Hungary was once a destination for many refugees entering the EU who landed in Greece and trekked north through the Balkans. Over 170,000 migrants applied for asylum in Hungary in 2015, at the height of the refugee crisis.
Government data says only about 3,000 individuals applied in 2017, partly due to the harsh policies toward immigrants and refugees, including mass detention and trials on charges of "terror," as well as the abatement of the refugee crisis.
Hungary's stance toward migration has made the country a beacon for white nationalists, with many coming to visit or live.
"Inviting Bannon and Yiannopoulos is a clear signal to [Orbán's] European counterparts … and his domestic audience that he is the only acting prime minister who has the guts to represent this ideology," said Bulcsu Hunyadi, a senior analyst of radicalism and extremism at the Political Capital Institute, a Hungarian think tank.
The move "also strengthens Orbán domestically because he appears to ally forces with the international VIPs of the scene," Hunyadi said.
But Hunyadi noted that Orbán has taken different stances toward far-right players over the years. For example, Hungary deported and banned Richard Spencer, the former face of the alt-right movement, in 2014, and expelled and banned two far-right British politicians, James Dowson and Nick Griffin, respectively, in May.
Orbán and his Fidesz party won an absolute majority in the April elections, allowing them to change the Hungarian constitution and shielding them from political challengers.
But criticism swirls. Attila Vajnai, a left-wing activist, has been a steady, if somewhat singular, challenger to Orbán and his courting of the far-right.
Vajnai obtained Yiannopoulos' contract and passed it to Mic after he was attacked by security guards at the event. He called attention to how far $20,000 could go in Hungary, a relatively cheap European country.
Hungary's monthly minimum wage for unskilled work is roughly $421. The minimum for skilled work is roughly $490. That means Bannon and Yiannopoulos were each paid nearly the equivalent of four years of low-skilled labor for their hourlong speeches.
The money would be better spent on "help for the poorest, not on extreme-right ideology," Vajnai said.
Yiannopoulos did not respond to Mic's request for comment. Mic was unable to contact Bannon after multiple attempts to obtain comment. PFRCEEHS also did not respond to two emails sent by Mic for comment.
Hungarian authorities also declined to comment on plans to cooperate with Bannon's movement.
Correction Aug. 20, 2018: