Trump campaign sues Omarosa for allegedly violating a nondisclosure agreement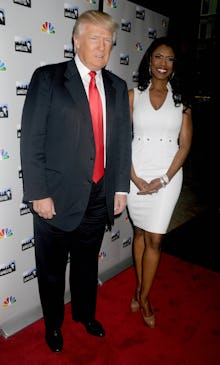 President Donald Trump's campaign filed a lawsuit Tuesday against former-Apprentice-star-turned-White-House-aide Omarosa Manigault Newman, alleging she violated a nondisclosure agreement she signed during the 2016 campaign, the Washington Examiner reported.
The Trump campaign seeks millions from Manigault Newman and might go after potential profits from book sales, saying the information she used in the tell-all violates her NDA, according to the Washington Examiner.
It's unclear how much of Manigault Newman's book is about her time on the campaign and her time in the White House, so it's too soon to tell how much of what she wrote is covered under any potential campaign-related NDA. But certain audio clips Manigault Newman released were definitively from 2016, including a tape where Trump campaign aides are heard discussing how to address a recording in which Trump is heard saying the N-word.
Legal experts say it's unlikely any NDAs staffers signed for their jobs in the White House are enforceable, as it would be an infringement of First Amendment rights.
Manigault Newman has drawn numerous headlines over the past few days, as she's released audio recorded during her time in the White House — including her firing by Chief of Staff John Kelly, which allegedly took place in the White House Situation Room.
Trump has blasted Manigault Newman on Twitter, calling her a "lowlife" and "wacky."
On Tuesday morning, Trump took his rhetoric a step further, calling her a "dog."
"When you give a crazed, crying lowlife a break, and give her a job at the White House, I guess it just didn't work out," Trump tweeted. "Good work by General Kelly for quickly firing that dog!"