'Mic Dispatch' episode 9: Inclusive comedy with 'Talk Hole' and Murray Hill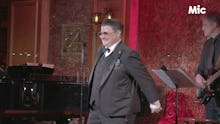 On this edition of Mic Dispatch, we're exploring inclusive comedy.
First up, we profile Talk Hole, a New York City-based comedy show aiming to shake things up. In the basement of an Asian-Italian fusion restaurant in Chinatown, where each show is held, hosts Eric Schwartau and Steven Phillips-Horst curate shows that showcase queer and female talent. The duo is proud of Talk Hole's place in New York's outsider comedy scene — a stark contrast to traditional comedy clubs that breed Saturday Night Live cast members and writers' room types.
Next, correspondent J.D. Samson introduces us to Murray Hill, a drag king and comedian who has been performing since the '90s. As Hill tells it, he has been called "the next big thing" for 20 years — but why hasn't he been able to break through? We explore how drag kings make less money than drag queens and how they are forced to contend with limited visibility and inclusivity within the larger drag community.
Check out episode nine of Mic Dispatch — only on Facebook Watch.
To catch future episodes of Mic Dispatch, follow Mic Dispatch on Facebook Watch. For more stories about the show, visit the Mic Dispatch collections page.