Manafort found guilty on eight counts of tax, bank fraud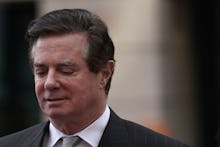 Paul Manafort — President Donald Trump's former campaign chairman — has been found guilty on eight felony charges: five counts of tax fraud, one count of failing to file reports of a foreign bank account and two counts of bank fraud.
Judge T.S. Ellis declared a mistrial on 10 other counts on which the jury couldn't reach a unanimous verdict. That does not mean Manafort is not guilty of those charges, but that the jury could not agree that prosecutors proved those charges beyond a reasonable doubt.
The verdict came after four days of deliberation, and marked a partial victory for special counsel Robert Mueller, who is investigating Russia's interference in the United States election in 2016.
Manafort, 69, led the Trump campaign in the summer of 2016, a period that included the Republican convention, where Trump officially sealed the GOP nomination for president. He resigned from the campaign in August 2016 amid heavy scrutiny of his work on behalf of pro-Russian interests in Ukraine — work that would eventually be investigated by Mueller, who indicted Manafort and his longtime associate, Rick Gates, in October 2017.
Gates, who cut a plea deal with the special counsel in February, was the prosecution's star witness during the trial and testified to having committed several crimes with his former boss, including knowingly hiding 15 foreign accounts from the government; stealing hundreds of thousands of dollars from Manafort by filing false expense reports, which were paid from Manafort's offshore accounts; and filing false tax returns in which the men under-reported their income, created fake loans and failed to disclose their foreign accounts.
Trump and his administration have long sought to distance themselves from Manafort, downplaying his role in the 2016 campaign and stating accusations against him predated his work for Trump.
But the president has at times suggested the treatment of his former campaign manager has been "very unfair," even going as far as to imply in August that Manafort had been "treated worse" than infamous mobster Al Capone.
On Friday, the second day of jury deliberations, Trump directly defended Manafort, telling reporters outside the White House that his former campaign director is a "good person" and that the "whole Manafort trial is very sad."
"I think it's very sad what they've done to Paul Manafort," Trump said Friday.
Manafort came to Washington, D.C., in the late 1970s, where he quickly earned a reputation as a cutthroat Republican operative. Along with Trump ally Roger Stone, Manafort established an innovative "double-breasted" political consulting and lobbying firm whose roster of clients included brutal dictators and corrupt governments.
His work on behalf of Viktor Yanukovych and the pro-Russian Party of Regions in Ukraine made him one of the most scrutinized members of Trump's team, and he was one of the first to be charged by Mueller, who would hit him with additional counts in superseding indictments earlier this year.
Manafort has been in jail since June, when Mueller called for his bail to be revoked over alleged witness tampering.
The first of his two trials began in July. He is facing additional money laundering, conspiracy and obstruction of justice charges at a second trial to begin in September in Washington, D.C.
Prosecutors made their case against Manafort over the course of 10 days and called 27 witnesses to the stand. The defense rested Tuesday without making a case or calling a single witness, and the former Trump campaign chairman declined to testify.
The defense made a motion to acquit Manafort, but U.S. District Judge T.S. Ellis III sided with the prosecution.
Prosecutors characterized Manafort as a liar during their closing arguments Wednesday, a roughly two hour summary of their case against the former Trump campaign chairman.
"Mr. Manafort lied to keep more money when he had it," prosecutor Greg Andres said in court Wednesday, "and he lied to get more money when he didn't."
Meanwhile, Manafort's attorney Richard Westing maintained in his closing remarks Wednesday that the government had not met its burden of proof in its case.
A jury of six men and six women decided the case.
The 12-day trial was at times contentious, with Ellis at one point apologizing to prosecutors after admonishing them in front of the jury on the seventh day of hearings. Ellis suggested on Friday that the atmosphere outside the courtroom had also become charged, saying at a hearing that he has received death threats over the case and is currently under protection by U.S. marshals.