Nicki Minaj denies harassing a music critic online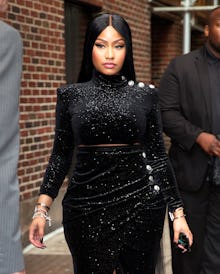 Nicki Minaj has caused quite a stir since the Friday release of her new album, Queen.
During an interview Tuesday with Hot 97's Funkmaster Flex to promote her latest record, Flex brought up a widely shared Forbes article from July that criticized the rapper's album rollout and accused Minaj and her fans of verbally attacking culture writer Wanna Thompson in a direct message.
"No, we're not even going to give that psycho no love," Minaj said, referring to the author of the scathing Forbes piece. "It was just a lonely weak loser who said that he was mad that I was taking Tekashi [6ix9ine] on tour and he was mad that I responded to some lady, who I didn't even respond to, but they ran with that story.
"Um, who cares? Let's move on," Minaj added.
The "lady" Minaj denied harassing is Thompson. On June 29, Thompson tweeted, "You know how dope it would be if Nicki put out mature content? No silly shit. Just reflecting on past relationships, being a boss, hardships, etc. She's touching 40 soon, a new direction is needed." The following day, the Toronto-based writer shared a screenshot of an intimidating direct message she said she received from the rapper.
Minaj's response to Wanna's tweet is below:
"When ya ugly ass was 24 u were pushing 30? I'm 34. I'm touching 40 ? lol. And what does that have to do with my music? Eat a dick u hating ass hoe. Got the nerve to have a Trini flag on ur page. You must not have heard the Pinkprint. Or pills n potions, Bed of lies, save me, my recent feature with Alicia keys, Tasha Cobbs. Just say u jealous I'm rich, famous intelligent, pretty and go! But wait! Leave my balls! Tired of you sucking them.
After making the message public, Thompson said she received a flood of misogynoir-laced messages from Minaj's fans. Thompson told Mic in July she was "exhausted" by the situation. But she wasn't the only person who claimed to be on the receiving end of of such messages. Jerome Trammel, a social media coordinator, also accused Minaj and her fans of online harassment.
"They pulled up my old [work address] and they were saying they were going to come to my job and kill me," Trammel said in a phone interview in July. "That I should die. I should hang myself. I should kill myself. I should commit suicide. I should slit my wrist."
Leading up to the release of her new record, Minaj was also criticized for working with rapper 6ix9ine on their collaboration "Fefe" because of his previous sexual misconduct. In October 2015, 6ix9ine pleaded guilty to using a 13-year-old girl in a sexual performance. On Aug. 9, the Manhattan District Attorney's Office recommended the Brooklyn rapper serve one to three years in state prison and register as a sex offender, Pitchfork reported.
6ix9ine is currently booked as an opener on Minaj's joint tour with rapper Future. The trek kicks off Sept. 21 in Baltimore.