Mic Daily: Trump campaign sues Omarosa, Manafort's defense rests and more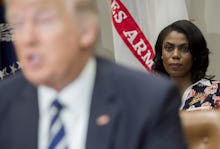 Welcome to Mic Daily: Mic's newsletter that cuts through the noise and lands in your inbox every weekday. We carefully curate each edition to send you a cross section of our most vital stories of the day. Want to receive this as a daily email in your inbox? Subscribe here.
Want more entertainment news in your inbox? Sign up for Hype Daily — Mic's morning entertainment roundup. It's got all the news you need to start your day.
President Donald Trump's campaign filed a lawsuit Tuesday against former-Apprentice-star-turned-White-House-aide Omarosa Manigault Newman, alleging she violated a nondisclosure agreement she signed during the 2016 campaign, the Washington Examiner reported.
I believe in a small state, which intervenes in the economy when there are clear market failures. Naturally, that means government should be predictable and exercise discretion very cautiously.
That's precisely why I believe Immigration and Customs Enforcement should be reformed. Or to jump on the popular movement and hashtag on the left, #AbolishICE. And I believe thoughtful, self-identified conservatives should as well.
Paul Manafort's defense team rested Tuesday without presenting a case nor calling a single witness, after the judge presiding over the case rejected a motion to acquit President Donald Trump's former campaign manager.
Twitter executives' refusals to ban radio show host and conspiracy theorist Alex Jones from the platform have incited moral outrage and many think pieces across the web. Now, direct action is starting on the platform — a coalition of nearly 50,000 very online people who have pledged to boycott the site's advertisers until it reverses course.
The Time's Up Legal Defense fund, an arm of the celebrity-backed Time's Up initiative unveiled in January to help fight workplace sexual harassment in Hollywood and beyond, is taking a major step toward its mission.