Hype Daily: Tessa Thompson's new role, Hannah Gadsby's book and more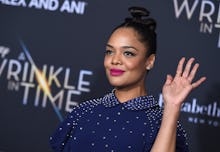 Welcome to Hype Daily, Mic's morning entertainment roundup. Here's everything you need to catch up on in the entertainment world and what to look forward to today. Want to receive this as a daily email in your inbox? Subscribe here.
Tessa Thompson has joined the new Lady and the Tramp
Disney is all about the live-action remakes lately, and on Tuesday the Hollywood Reporter reported Tessa Thompson officially joined the cast of the upcoming live-action-CGI-hybrid Lady and the Tramp remake. Thompson will voice Lady, the cocker spaniel, joining Justin Theroux as the scrappy Tramp. The movie will apparently premiere on Disney's new streaming service, which is planned for a 2019 launch.
Emmy cohost Colin Jost doesn't seem to like the Emmys very much
Saturday Night Live's Michael Che and Colin Jost will cohost this year's Emmy Awards on NBC come September, but Jost doesn't seem to care for awards shows — at least that's the impression he gave in a new interview with the Los Angeles Times published Tuesday.
"Eh. I think most of the time they're way too self-serious and focused on things that 99% of the country doesn't care about," Jost said of awards shows. "At the end of the day, it's adults getting trophies. Why should that be taken seriously?"
He also added, "And remember when movies like Gladiator won best picture? Why can't good, fun things win and not just good artsy things? They're both good, and the fun ones are sometimes a lot harder to make." Sounds like Jost is really going to be excited about the Academy Awards' new popular film category.
Hannah Gadsby is writing a book
Fresh off the success of her much-talked-about Netflix comedy special Nannette, Australian comedian Hannah Gadsby is working on a new memoir. As Vulture reported, the upcoming book will be titled Ten Steps to Nanette, and it seems like it will be released in both Australia and the U.S.
According to the description for the Australian release, "Hannah's memoir is a string of stories that draws together the varied funny and sometimes dark events of her life, compelling readers to understand the damage society can visit upon those (like Hannah) who find themselves on the outside." I'm ready for this.
Jon M. Chu says he hopes Crazy Rich Asians can "crack" open the door
The rom-com Crazy Rich Asians hits theaters Wednesday, and there's been a lot of excitement about the Asian representation that the movie, which features an all-Asian cast, can offer audiences. In a new interview with Deadline published Tuesday, the film's director, Jon M. Chu, spoke about the pressure on the film and what he hopes it accomplishes.
"It's unfair for one movie to represent all these people," Chu said. "One movie that represents [all] Asians — that's just ridiculous. However, if this can crack the door a little bit so that other stories can be told, and it spawns a resurgence in these stories getting shown at the highest levels possible — I would love to have this."
He hopes, in the near future, there will be so much more representation a film like Crazy Rich Asians won't be so novel. "That would be the dream — that we don't have to talk about a movie just because it's an all-Asian cast," he said.
Put this on your radar: Juliet, Naked
Chris O'Dowd, Rose Byrne and Ethan Hawke star in the new film Juliet, Naked, based on a novel by Nick Hornby — so if you're a super-fan of any of those three actors (attn: my Ethan Hawke-obsessed editor), you might want to check this movie out.
Juliet, Naked, which hits theaters Friday, is the story of a woman whose boyfriend is obsessed with a reclusive musician — a musician who, by chance, she winds up becoming close with. Variety called the film "a gently winning romantic comedy, all keyed to a delightful note of indie-rock obsession." Sounds like cute summer fare to me.