Today in Trump's America: History made as transgender woman, Somali refugee win primaries on Tuesday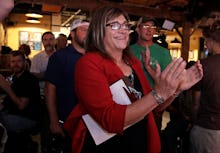 Welcome to Mic's daily read on Donald Trump's America. Want to receive this as a daily email in your inbox? Subscribe here.
Good morning from Emily Singer at Mic.
Check out Mic Dispatch, Mic's new show reporting on the problem-solvers and the provocateurs in our changing world. Subscribe here for alerts on new episodes airing Tuesdays and Thursdays, 8 p.m. Eastern, on Facebook Watch.
Here's what's happening in Trump's America:
• The only event on Trump's schedule is his daily intelligence briefing at 11:30 a.m. Brace for tweets.
About last night: More history-making candidates win Democratic primaries
It was another big night of firsts in America, as candidates with diverse backgrounds won the the Democratic nomination in a handful of primaries across the country.
In Vermont, Christine Hallquist became the first transgender woman to be nominated as governor by a major party. She's hoping to oust GOP Gov. Phil Scott in the Green Mountain State to become the first transgender governor in U.S. history.
In Connecticut, Democrat and 2016 National Teacher of the Year Jahana Hayes won a primary in the state's open 5th District. The district is heavily Democratic, so she's almost assured to win in November and become Connecticut's first black Democratic member of Congress.
In Minnesota, Democrat Ilhan Omar won a crowded primary in the state's 5th District, another heavily Democratic district, making her a near certainty to come to Congress. Omar is Muslim and a former Somali refugee, and she would be the first Somali-American elected to Congress. If Rashida Tlaib wins, as expected, in Michigan's 13th District, she and Omar will be the first two Muslim women elected to Congress.
Other winners from Tuesday night were more conventional politicians.
In Wisconsin, Democrat Tony Evers won a crowded Democratic primary for governor, and he will now take on GOP Gov. Scott Walker. With a national political environment that favors Democrats, Walker is facing the toughest election of his career.
Meanwhile, in the Wisconsin Senate race, Republicans nominated Leah Vukmir to take on Democratic Sen. Tammy Baldwin. Vukmir had the backing of national Republicans like Speaker Paul Ryan. She narrowly defeated her opponent, Kevin Nicholson, to win the primary.
Randy Bryce, an ironworker and labor activist who rose to national prominence thanks to a viral campaign video, won the Democratic primary to succeed Ryan in Wisconsin's 1st District. It's an uphill battle for Bryce, as the district leans Republican. Bryce also has some indiscretions in his past, including a handful of DUI arrests and missed child support payments, that give his GOP opponent fodder.
In Minnesota, Rep. Tim Walz won a Democratic primary for governor, defeating two women for the chance to succeed retiring Democratic Gov. Mark Dayton. On the Republican side, former Gov. Tim Pawlenty — who you may remember as the much-hyped candidate who bizarrely dropped out of the 2012 GOP presidential primary after he lost the Iowa straw poll months before any primaries actually took place — lost a comeback bid to Republican Jeff Johnson, likely ending Pawlenty's political career for good.
Rep. Keith Ellison easily won the Democratic nomination for attorney general in Minnesota, days after a former partner levied domestic violence allegations against him. Ellison denies the allegations.
And in the Minnesota Senate special election to serve out the remainder of former Sen. Al Franken's term, appointed Sen. Tina Smith romped to victory against Richard Painter, a former staffer in George W. Bush's White House who ran this ad about the "dumpster fire" in Washington, D.C.
Today in Trump's America: Manafort trial nears its end
Lawyers for both the prosecution and Paul Manafort's defense team will make their closing arguments Wednesday, as the first trial against Trump's former campaign chairman nears its end.
Manafort's lawyers did not call any witnesses Tuesday and rested their case without having Manafort testify.
The jury may start deliberating as early as Wednesday afternoon.
It's not unusual for a criminal defendant to rest a case without calling any witnesses.
"This is a smart move by the defense unless they had something great to work with. Putting on just a witness or two can seem weak in the face of overwhelming evidence from the prosecution," former federal prosecutor Renato Mariotti tweeted Tuesday.
Instead Manafort's lawyers will likely argue prosecutors have not proven beyond a reasonable doubt that Manafort committed the 32 counts of bank fraud and tax evasion the government has charged him with.
Experts say, however, it's unlikely Manafort is found not guilty of any or all of the charges levied against him, given the mounds of evidence — both on paper and from witnesses — the government presented.
Closing arguments begin at 9:30 a.m. Wednesday.
And the rest…
The N-word tape saga: White House press secretary Sarah Huckabee Sanders set off a firestorm Tuesday when she declined to definitely rule out the possibility there is a tape floating around where Trump uses the N-word.
"Can you stand at the podium and guarantee the American people will never hear Donald Trump utter the N-word on a recording in any context?" NBC's Kristen Welker asked Sanders at Tuesday's daily press briefing.
"I can't guarantee anything," Sanders said, "But I can tell you that the president addressed this question directly. I can tell you that I've never heard it."
Sanders went on to chastise the media for giving airtime to former White House aide Omarosa Manigault Newman — whose book tour reignited the debate about whether there is a tape from Trump's time on The Apprentice where he is heard using the racial slur.
That plea was overshadowed by Sanders' inability to definitively shut down the chatter about the supposed tape.
Manigault Newman released a recording Tuesday that purports to show former Trump campaign aides discussing how to respond to a possible release of the N-word tape. On the recording from Manigault Newman, Trump campaign spokesperson Katrina Pierson, campaign communications director Jason Miller and former Eric Trump assistant Lynne Patton are heard discussing the N-word tape.
"I am trying to find at least what context it was used in to help us maybe try to figure out a way to spin it," Pierson says on the tape.
"He said. No, he said it. He is embarrassed by it," Pierson adds.
Correction: Aug. 15, 2018