Comedian Amber Ruffin remade classics like 'Annie Hall' without the problematic men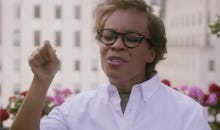 In a sketch on Tuesday night's episode of Late Night With Seth Meyers, comedian and show writer Amber Ruffin solved the problem of how to enjoy art made by problematic and predatory men — she remade it.
"Are you tired of trying to separate the art from the artist," Ruffin said by way of opening the sketch. "Hello, I'm some lady named Amber and I haven't sexually assaulted a single person. ... I took all of the classic art made by sketchy dudes and I remade it, so you can enjoy it guilt free."
What follows is a series of clips of Ruffin in hilariously over-the-top costumes, doing wonderfully cheesy impressions of people whose art is tainted by their offscreen behavior, like Chris Brown, Kevin Spacey, Woody Allen and Bill Cosby.
She also mocks "any number" of stand-up comedians and Pablo Picasso (who was notoriously terrible to the women in his life). Ruffin puts forward a great solution to all the hand-wringing about how we can appreciate the art made by alleged (and confirmed) abusers.
"With my guilt-free takes on the classics, there's no need to separate the art from the artist," Ruffin said, in a deadpan straight to the camera. "You can throw them both in the garbage."