Omarosa's allegations against Trump set up another battle of unreliable narrators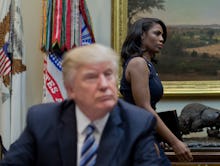 On Tuesday, Omarosa Manigault Newman lobbed yet another grenade at President Donald Trump.
The former Apprentice contestant turned Trump aide, who has accused the president of racism during her media blitz promoting her new White House tell-all, claimed in an MSNBC interview Tuesday afternoon that Trump knew in advance of the stolen emails WikiLeaks released in 2016 — seemingly as part of a Russian plot to damage Hillary Clinton and the Democratic Party.
"Did Donald Trump know about those emails before they came out?" anchor Katy Tur asked Manigault Newman, who worked on the Trump campaign and transition team.
"Absolutely," she said, adding she is "going to expose the corruption the corruption that went on in the campaign and in the White House."
It was another bombshell claim by the former White House aide, and one that, if true, would possibly land Trump in legal hot water. It was also reflective of the current bizarre political era in which both the president and those accusing him of wrongdoing are plagued by severe credibility issues.
Manigault Newman is only the most recent former Trump associate with reliability issues to allege misconduct on his part.
Michael Cohen, the president's embattled former attorney and fixer, has reportedly told associates then-candidate Trump knew of and approved his son's infamous Trump Tower meeting in 2016, during which Donald Trump Jr. and other top campaign officials met with a Russian lawyer who supposedly had dirt on Clinton.
The episode, and the misleading statement Trump crafted for his son last year, has been a key focus of special counsel Robert Mueller's Russia investigation.
But it's not clear Cohen, who spent years serving as Trump's attack dog, has any evidence to back up the claim.
Then there's Sam Nunberg, a former Trump campaign aide who made a series of wild media appearances in March. He told the Associated Press Trump "may have done something during the election." But Nunberg, like Cohen, did not provide any evidence to support his assertion — and in his chaotic media tour made several contradictory, incredible statements.
Trump and his White House deny any collusion between the campaign and the Kremlin and characterize Mueller's investigation as a "witch hunt." But of course, the president and those who speak for him also have severe credibility problems. Trump is known as a prolific teller of lies and other falsehoods, and his spokespeople constantly obfuscate on his behalf.
With such reliability issues among both accusers and the accused, it's perhaps no surprise the existence or nonexistence of tapes have become such a fixture of the Trump presidency. The president famously implied in 2017 he had made recordings of his conversations with former FBI director James Comey — "tapes" he later acknowledged did not exist.
Then in July, one of apparently several recordings Cohen made of his conversations with Trump emerged, seemingly undercutting the administration's claim the president had no prior knowledge of the effort to silence a former Playboy model who claimed to have had an affair with him years earlier. Trump evidently felt betrayed by Cohen because of the surreptitious recordings. "I can't believe Michael would do this with me," he reportedly said upon learning of the tapes.
Now, tapes have also taken centerstage in the ongoing Omarosa saga.
She claims there are recordings of Trump using the N-word on the set of The Apprentice. Trump has denied this, tweeting he "[doesn't have that word in my vocabulary" and that The Apprentice producer Mark Burnett has called him to "say that there are NO TAPES" in which he uses the "terrible and disgusting word as attributed by Wacky and Deranged Omarosa."
"She made it up," he said, echoing former Trump spokesperson Katrina Pierson, who initially dismissed Omarosa's claim by saying it sounds like she is "writing a script for a movie."
But Omarosa has already produced some tape, including one in which she, Pierson and another aide discuss alleged the N-word recording — and Pierson directly says it exists.
"He is embarrassed by it," Pierson said in the recording.
It remains to be seen if the N-word tape, or proof to back up Omarosa's other claims about the president, will also emerge.