Schools across the South are being legally required to make it clear, "In God we trust"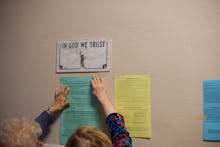 Students in Florida and Tennessee will be seeing a daily religious reminder in the upcoming school year, as a rash of legislation requiring the "In God we trust" motto to be prominently displayed in schools is implemented across parts of the South.
The Florida and Tennessee laws, which are going into effect with the new school year, require schools to display the phrase in a conspicuous place, such as a cafeteria or entryway. "In God we trust" is the national motto, and serves as the state motto in Florida as well.
Kimberly Daniels, the Democratic Florida legislator and minister who sponsored the state legislation, described the new rule as "so simple, just saying, 'Put a poster up to remind our children of the foundation of this country.'"
"It is not a secret that we have some gun issues that need to be addressed, but the real thing that needs to be addressed are issues of the heart," Daniels added about the bill, which passed in the wake of the school shooting in Parkland, Florida.
While some Christian parents have supported the new laws, the move has encountered pushback from other parents and such organizations as the Freedom From Religion Foundation. The group Atheists in Florida has offered to provide schools with their own version of the "In God we trust" signs: proposed versions include pictures of gods from a variety of religions and the First Amendment phrase "Congress shall make no law respecting the establishment of religion or prohibiting the free exercise thereof."
"I think it excludes people that don't believe in the Christian God," Knoxville, Tennessee, parent Mike Durham told 10 News about the state law.
"I think if you put one religious statement up, you should have to put up a religious statement for everyone that goes to that school, or none at all," Durham said.
Tennessee and Florida are the latest in a wave of southern states to implement such religious signage in schools. Similar laws have been in place in Mississippi since 2001 and Virginia since 2002, and the policy went into effect in Arkansas in February. Legislation requiring the signage is also being considered in South Carolina and North Carolina, and schools in Louisiana must implement the motto by 2019.
Alabama enacted legislation allowing the phrase to be displayed on public property, which could inspire school boards across the state to implement the phrase. Voters in Alabama will also decide in November whether to change the state Constitution to allow schools to display the Ten Commandments.
The state legislation comes as the federal government has also made a push for pro-Christian policies, including the establishment of a new Religious Liberty Task Force and taking steps toward protecting Christian adoption agencies' discrimination against LGBTQ and non-Christian parents.
"It's a tsunami of Christian national laws in our country right now," Annie Laurie Gaylord, co-president of the Freedom from Religion Foundation, told AL.com. "With the Republicans in charge of Congress and so many of these states, we are seeing a constant push for theocracy."