'Mic Dispatch' episode 10: Christian Cowan on making celebrities the DNA of his eponymous brand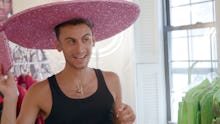 With only three shows at New York Fashion Week under his belt, 24-year-old designer Christian Cowan is a relative newbie in the fashion world. But the list of stars he's dressed shows a designer harnessing the power of celebrity to skyrocket his brand's trajectory.
Beyoncé. Lady Gaga. Cardi B. Ariana Grande. Miley Cyrus. Nicki Minaj. Dua Lipa. Lana Del Rey. Issa Rae. Rita Ora. Janelle Monáe. Hailee Steinfeld. Charli XCX. Beth Ditto. Normani. Olly Alexander. Gwen Stefani. Paris Hilton. Remy Ma. Camila Cabelo. Kendall Jenner. Kim Petras. Those are just 22 of the celebrities who have worn Cowan's designs in music videos, on tour, in photoshoots or simply walking down the street.
"People have always wanted to dress celebrities, but I don't know whether it's always been such a thing to tie it into the DNA of the brand," Cowan said. "The heart and soul of our brand is not celebrity dressing."
But such success doesn't come without difficulties.
"I's difficult being young because we don't have the budget to do everything for free," Natthias Mitchinson, Cowan's studio manager, said. "So if someone really glam says, "Oh, I want a custom look," it's like, I'd love to give them that for free, but we don't have the budget."
How often do celebrities expect free clothing? Every day, Mitchinson said.
"I won't mention who, but I did a job for a singer and they haven't paid us and for things like that to young designers, it's pushed our whole production by a whole month for a whole show," Cowan added.
To learn more about the man behind the label, take a peek inside Cowan's home and studio, and hear from some of his dear friends — including his boyfriend, Drew Elliot, chief creative officer at Paper magazine and judge on America's Next Top Model, as well as supermodel Duckie Thot — check out this segment in episode 10 of Mic Dispatch above — only on Facebook Watch.
To catch future episodes of Mic Dispatch, follow Mic Dispatch on Facebook Watch. For more stories about the show, visit the Mic Dispatch collections page.