Americans are mostly united on not wanting blueprints for 3D-printed guns online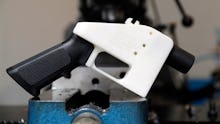 Guns might be one of the most deeply polarizing issues in the United States, but when it comes to the regulation of at least one type of firearm, Americans are mostly in rare agreement: Don't make the blueprints for 3D-printed guns available online.
A new Axios/SurveyMonkey poll released on Monday found that eight out of 10 Americans oppose the blueprints for unserialized, untraceable firearms made from cheap 3D-printed polymers being made widely available for download online.
The survey, which was conducted between Aug. 8 and Aug. 10 and polled 2,096 adults living in the U.S., tracked five key voter demographics ahead of the 2018 midterm elections. Across all subgroups — which included rural voters, suburban white women, "never Hillary" independent voters, African-American women and millennial voters aged 18 to 34 — respondents "overwhelmingly opposed" 3D-printed guns, the survey found.
On other gun-related issues — including President Donald Trump's policies — the survey results were more mixed. According to the data, a slight majority of rural voters said that they approved of Trump's policies, while African-American women and millennials said that they weren't in favor.
The poll also tracked respondents' opinions on the National Rifle Association, and found that while 56% of rural voters and 53% of "never Hillary" viewed the gun lobbying group favorably, millennials — who have mobilized around the issue of gun regulation in droves in 2018, particularly in light of a disturbing spate of mass shooting events on high school campuses — had an unfavorable view of the organization, at a rate of 53%.
The poll results two weeks after a federal judge in Seattle issued a temporary restraining order against Cody Wilson, the CEO of Defense Distributed, in order to block the release of blueprints for 3D-printed guns.
Wilson had previously been embroiled in a lawsuit with the State Department over his constitutional right to post the schematics online. In court, his lawyers argued that to force him to remove the blueprints from the internet, as the government had done in 2013, would be a violation of his First Amendment rights. After a lengthy legal battle, the Trump administration eventually offered to settle the Defense Distributed suit in April, offering the company a special agreement that essentially granted it the ability to post the blueprints online after all.
In spite of the temporary restraining order, Wilson has vowed to continue litigation for as long as it takes in order to make the blueprints public.
"People come to me and say, 'Cody, tell us why you want to do it.'' he recently told the Austin American-Statesman. "No, no — more like all these authorities, all these powers, they will have to justify why they should have the right to stop me. I won't be shamed out of it or legally spoiled out of it. I'll sue them all — sure, whatever."