ACLU: Immigration Services conspired with ICE to "trap" migrants at visa interview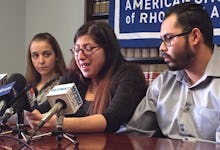 Two prominent arms of the United States immigration system coordinated to systematically entrap and deport undocumented immigrants seeking residency through legal channels, newly-released internal email correspondences between the agencies show.
According to court documents originally filed by the American Civil Liberties Union on Aug. 1 that were made public this week, emails exchanged between Immigration and Customs Enforcement agents and U.S. Citizenship and Immigration Services reveal that citizenship interviews were scheduled at the convenience of ICE agents, who were specifically targeting the undocumented immigrant spouses of legal citizens.
The internal emails show that ICE agents went so far as to specifically request that the timing of the interviews and subsequent arrests be carefully coordinated, so as not to attract media attention.
"As far as scheduling goes, I would prefer not to do them all at one time as it is [not] only a strain on our ability to transport and process several arrests at once, but it also has the potential to be a trigger for negative media interests, as we have seen in the past," Andrew Graham, an ICE officer, wrote to an unidentified Citizenship and Immigration Services employee in October.
One such targeted individual was Lilian Calderon, who arrived at the Boston-area offices of U.S. Citizenship and Immigration Services with her husband, Luis, in January for a routine green card interview.
Although Calderon, 30, was undocumented — she'd been brought to the U.S. by her parents when she was three years old — she was married to a U.S. citizen and had two children with him. Everything seemed to be progressing in the couple's favor. In a press conference held after her release from ICE custody in February, Calderon described the interview itself as having gone smoothly, with an immigration officer certifying that her marriage was legitimate, and even chit-chatting with her about what she described as "football banter."
After the interview concluded, though, Calderon was informed by two ICE officers that they would have to detain her because of a prior order of deportation.
"They asked me, 'Is there anything you want to give [your husband]?'" Calderon said through tears during the press conference in February. "And I said 'Of course, I want to give him our pictures and our album that we brought' ... I just wanted to speak with him and say bye to him, but they didn't even give me a chance."
Calderon is one of the five immigrants who, along with their U.S.-citizen spouses, are serving as plaintiffs in the lawsuit being brought by the ACLU in order to challenge the the Trump administration's practice of targeting married couples where one spouse is seeking citizenship.
In the court filings, the ACLU refers to such coordinated, sting-style interview setups as a "trap," with ICE even asking in some cases for USCIS officials to stall the meetings by 15 minutes because their agents were "getting a late start" to the day.
"[USCIS] have represented to the public that people can come in for these interviews and be safe from arrest unless they pose a threat to public safety or national security," Matthew Segal, an ACLU attorney representing the plaintiffs, told CNN. "And at the very same time that USCIS was making those claims, it was working behind people's backs to have them arrested."
In February, a judge issued an order preventing Calderon's deportation while her case is being litigated. Meanwhile, the ACLU is arguing that her situation mirrors those of others who are being detained at the behest of immigration officers who believe that they are following the letter of the law on an executive order issued by Trump in January 2017, which sanctions the arrest of anyone with final orders of removal — regardless of the status of their citizenship claim.