"The evidence in this case is overwhelming": Prosecution targets Manafort "lies" in closing argument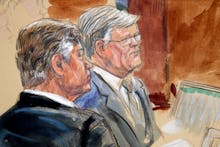 Prosecutors in the trial against Paul Manafort used their closing arguments to paint the former chairman of Donald Trump's presidential campaign as a liar who obtained and maintained his fortune through deception.
"Mr. Manafort lied to keep more money when he had it, and he lied to get more money when he didn't," prosecutor Greg Andres said in a nearly two-hour closing argument Wednesday. "This is a case about Mr. Manafort and his lies — lies on his tax returns and lies to bank after bank after bank.
"The evidence in this case is overwhelming," Andres added.
Manafort, who served as Trump's campaign chairman during the summer of 2016, faces 18 charges of bank and financial fraud. Special counsel Robert Mueller indicted Manafort in 2017 as part of his probe into possible collusion between the Trump campaign and the Kremlin, along with potential obstruction of justice on the part of the president.
Prosecutors called more than two dozen witnesses, including former Manafort deputy Rick Gates, to the stand over the course of 10 days. The defense rested Tuesday without presenting a single witness and without Manafort testifying on his own behalf. Instead, Manafort attorney Richard Westling argued the prosecution failed to meet its burden of proof.
"Hold the government to its burden, ladies and gentlemen," Westling told jurors in his closing argument Wednesday afternoon.
Manafort was among the first members of Trump's orbit to be brought down by the Mueller probe, which Trump continued to decry Wednesday as a "Rigged Russian Witch Hunt."
"All credibility is gone from this terrible Hoax, and much more will be lost as it proceeds," Trump tweeted. "No Collusion!"
Trump and members of his inner circle have mostly attempted to keep their distance from Manafort, though the president has also said he feels the treatment of his former campaign chairman has been "very unfair."
Manafort, 69, could spend the rest of his life in prison if he is convicted on the counts against him. A jury of six men and six women will decide his case. He faces further charges of money laundering, conspiracy and obstruction at a second trial set for September in Washington, D.C.