How Bollywood turned Switzerland into a beloved destination for generations of Indian travelers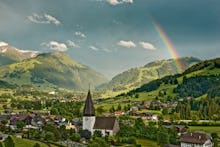 Over time, several iconic movie moments have turned locations into popular tourist destinations, from the Beverly Wilshire hotel in Pretty Woman to the Empire State building in Sleepless in Seattle. Bollywood blockbusters have gone as far as to inspire international travel.
Bollywood film Dilwale Dulhania Le Jayenge (which translates to "the big-hearted will take the bride") was released in October 1995 and became the highest grossing Bollywood film of the year. In the movie, Simran, who is engaged to a man her family chose for her, has given up on finding true love. She meets Raj during a Europe trip and the duo miss a train at Zweisimmen Station and end up traveling through the Swiss countryside together.
Switzerland ends up playing host to a variety of scenes that make up Simran and Raj's love story. There's the St. Mauritius church in Saanen where Raj secretly prays for Simran after claiming not to believe in God. There's the Saanen bridge where Raj waits for Simran to turn around before boarding a train, counting it as a sign that she loves him too. And then there's the Swiss cowbells — Simran leaves the cowbell outside her London home for Raj as a sign before she leaves for her wedding in India. Swiss cowbells have become a symbol of romance, in a way, and are a popular souvenir for Indians traveling to Switzerland.
How Switzerland became a Bollywood backdrop
Raj and Simran's love story captured the hearts of South Asian viewers (23 year later, the film still plays in theaters in Mumbai, India) and it became one of the most prominent Bollywood movies filmed in Switzerland in the '90s. Indians already had a love affair with trains and snow-clad mountains, and the movie sealed their view of Switzerland as a romantic destination — resulting in a surge in travel.
Bollywood films have always featured fantasy sequences — moments in the middle of the narrative where a song plays over a scene in a beautiful location, film journalist Aseem Chhabra said in a phone interview.
The northern Indian region of Kashmir was a popular backdrop for these Bollywood song sequences, but political unrest in the region in the '90s pushed filmmakers to find an alternative.
Legendary filmmaker Yash Chopra, who produced multiple films in Switzerland including Dilwale Dulhania Le Jayenge (often abbreviated as DDLJ), reportedly first visited the country in the '70s for his honeymoon.
While movies didn't always identify the location of these fantasy sequences, DDLJ was one of the first popular movies to acknowledge where filming took place.
Switzerland became the go-to destination for any big Bollywood production, a trend that Yash Chopra popularized with Chandni in 1989 and peaked in the '90s with DDLJ.
"There were on average between 20 to 30 movies being shot in Switzerland every year at that time," Ritu Sharma, deputy director and marketing head of Switzerland Tourism's Indian office, said in a phone interview.
Things were also changing in India. In the early '90s, economic liberalization began and people started earning more money, Chhabra, the film journalist, said. "There was more disposable income and Indians started traveling abroad. It became easier to get visas." To this day, Indians travel to the specific destinations where iconic movie scenes were filmed.
The love story of India and Switzerland
Switzerland welcomed this surge in interest with open arms. Interlaken, Lucerne, and Zurich became the go-to honeymoon destination and a hotspot for family travel, Sharma said.
According to Switzerland Tourism's data, in 1992, 28,834 Indians visited Switzerland. In 2017 that number was at 326,454. These numbers don't account for Indians living outside of India who also travel to Switzerland frequently, Sharma said, adding that Indians are one of the biggest buyers of the Swiss travel system pass.
A search on Instagram reveals hundreds of tourists who reenact popular stills from the film. Nothing was more romantic to Indians in the '90s than honeymooning in Switzerland, and that connection has only become stronger over time, as DDLJ defined romance for several generations of viewers.
Switzerland offers organized Bollywood tours where fans can go to the exact location where Raj and Simran missed the train, or where Raj waits for her to turn.
Visitors can eat Indian food at Restaurant Bollywood, 11,332 feet above sea level, or bite into vada pav, a street food not often found outside India, at Spice Bistro at the foothills of Mt. Titlis. There's even a DDLJ cutout on top of Mt. Titlis for a photo opportunity with Raj and Simran.
There's also a Yash Chopra Suite at the Victoria Jungfrau hotel in Interlaken, and a statue of the iconic producer and director in the Kursaal Gardens.
Young Bollywood actor Ranveer Singh is now the brand ambassador for Switzerland Tourism, which continues to partner with Indian soap operas, travel shows and influencers.
"I think the reason that Switzerland's doing so well with India is because people are getting what they're expecting," Sharma said.
"Your idea of Switzerland is beautiful landscapes, you know? Snow-clad mountains, lakes, which is something that you'll see as soon as you land in Zurich and you're 10 minutes on a train."
The pivotal scene in DDLJ takes place at a train station in India where Raj realizes Simran's family won't agree to the match and boards a train to leave.
"Let me go," Simran pleads to her father as the whole family anxiously awaits his response.
As the train departs Simran's father softens and realizes that Raj truly loves her.
To everyone's surprise, her father then encourages her to board the train. "Go live your life," he says. This one line — and the power of movie magic — managed to spark the travel bug in young Indians for generations to come.