Trump revokes security clearance of former CIA director who's been critical of president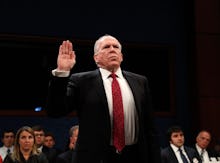 The White House announced on Wednesday that President Donald Trump has revoked the security clearance of John Brennan, the former CIA director who has been critical of the president and his administration.
White House press secretary Sarah Huckabee Sanders announced the revocation at Wednesday's daily news briefing, and listed off a handful of other former intelligence officials from the Obama administration who have also been critical of Trump and whose security clearances are now under review.
Others whose clearances are under review include former FBI Director James Comey, former Director of National Intelligence James Clapper, former CIA Director Michael Hayden, former Deputy Attorney General Sally Yates, former Obama national security adviser Susan Rice, former FBI Deputy Director Andrew McCabe, former FBI agent Peter Strzok and former FBI attorney Lisa Page. All have been critical of Trump.
Sanders said Brennan's clearance is the first to be revoked because he has exhibited "erratic conduct and behavior."
Brennan has been extremely critical of Trump, accusing the president of being treasonous. Most recently, Brennan was critical of Trump's comments about former White House aide Omarosa Manigault Newman, in which Trump called her a "dog."
"It's astounding how often you fail to live up to minimum standards of decency, civility, & probity," Brennan tweeted on Tuesday. "Seems like you will never understand what it means to be president, nor what it takes to be a good, decent, & honest person. So disheartening, so dangerous for our Nation."
Trump's revocation of Brennan's clearance — as well as the review of other clearances for intelligence officials who worked under former President Barack Obama — calls into question whether the president is firing a warning shot to officials.
One reporter asked Sanders why the Trump administration isn't revoking the security clearance of Gen. Michael Flynn, the president's disgraced former national security adviser who pleaded guilty to lying to federal agents in special counsel Robert Mueller's probe. Sanders did not have an answer.
"We'll keep you posted if that gets updated," Sanders said.