Mic Daily: ACLU sues over entrapment of immigrants, Twitter finally suspends Alex Jones and more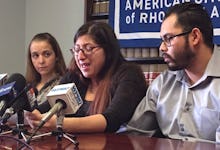 Welcome to Mic Daily: Mic's newsletter that cuts through the noise and lands in your inbox every weekday. We carefully curate each edition to send you a cross section of our most vital stories of the day. Want to receive this as a daily email in your inbox? Subscribe here.
Want more entertainment news in your inbox? Sign up for Hype Daily — Mic's morning entertainment roundup. It's got all the news you need to start your day.
Two prominent arms of the U.S. immigration system coordinated to systematically entrap and deport undocumented immigrants seeking residency through legal channels, newly released internal email correspondences between the agencies show.
Prosecutors in the trial against Paul Manafort used their closing arguments to paint the former chairman of Donald Trump's presidential campaign as a liar who obtained and maintained his fortune through deception.
"Mr. Manafort lied to keep more money when he had it, and he lied to get more money when he didn't," prosecutor Greg Andres said in a nearly two-hour closing argument Wednesday. "This is a case about Mr. Manafort and his lies — lies on his tax returns and lies to bank after bank after bank."
A new pair of legal actions has shown how, roughly 19 months into Trump's presidency, the financial ties between the Trump Organization and the administration remain shrouded in secrecy.
Twitter CEO Jack Dorsey has put InfoWars host Alex Jones in a timeout so he can think about what he's done. In an interview with NBC News' Lester Holt, Dorsey said the company pressed pause on Jones' ability to tweet — but has yet to kick him off the platform.
Guns might be one of the most deeply polarizing issues in the United States, but when it comes to the regulation of at least one type of firearm, Americans are mostly in rare agreement: Don't make blueprints for 3D-printed guns available online.
When California Assemblymember Shirley Weber introduced Assembly Bill 931 — a newly proposed amendment aimed at discouraging the use of deadly force by California police — her words conveyed the seriousness of the battle ahead.
"We have been deeply saddened and frustrated by the killing of black and brown men by law enforcement," Weber said during a press conference in April. "It seems that the worst possible outcome is increasingly the only outcome that we experience."