Hype Daily: An Aretha Franklin tribute concert, Keri Russell heads to Broadway and more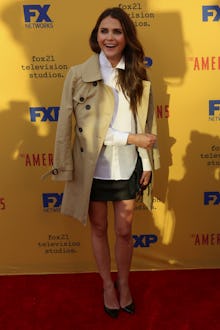 Welcome to Hype Daily, Mic's morning entertainment roundup. Here's everything you need to catch up on in the entertainment world and what to look forward to today. Want to receive this as a daily email in your inbox? Subscribe here.
An Aretha Franklin tribute concert is in the works
After news broke that legendary performer Aretha Franklin is ill, well-wishes and messages of support poured in from celebrities. Missy Elliott, Sheryl Crow, Chance the Rapper and former President Bill Clinton all posted on social media about Franklin. And, as the Washington Post reported Wednesday, a tribute concert is already in the works.
The concert is scheduled to take place at New York City's Madison Square Garden on Nov. 14, and, while details are scant so far, it will probably feature an amazing line-up of stars covering Franklin's songs.
A new trailer for Widows just dropped
The new trailer for Steve McQueen's upcoming film Widows dropped on Wednesday and ... wow. I am extremely excited for this movie. Widows stars Viola Davis as a woman whose husband (played by Liam Neeson) dies, leaving her to finish his criminal activity.
She teams up with a group of other crime widows, played by Michelle Rodriguez, Elizabeth Debicki and Cynthia Erivo, so they can all finish their late husbands' dirty work. Watch the full trailer here.
Keri Russell and Adam Driver are coming to Broadway together
In excited theater news, The Americans star Keri Russell and Star Wars star Adam Driver are headed to Broadway to star together in a 2019 revival of the play Burn This, Entertainment Weekly reported Wednesday.
In the play, Russell and Driver, who are both in the upcoming Star Wars: Episode IX, will play Anna and Pale, two New Yorkers whose lives and relationship are shaken after an accidental death. Sounds fun!
Chili's is helping out with an Office-themed pop-up
The Chicago bar Replay has been hosting an Office-themed pop-up all summer, but, as the Chicago Tribune reported this Friday, Chili's will help the bar recreate the Dundies ceremony where Pam got extremely wasted and then banned from Chili's for life. If you love The Office as much as I do, you know exactly what I'm talking about. If this doesn't make any sense to you, you should probably go watch The Office. You'll like it!
Anyway, if you need me, I'll be on a plane to Chicago to attend this re-enactment, shouting, "I feel God in this Chili's tonight!"
Put this on your radar: Disenchantment
Simpsons creator Matt Groening's new animated show Disenchantment premieres Friday on Netflix. The series is a fantasy spoof and stars Broad City's Abbi Jacobson as Bean, a princess who gets into various scrapes and mishaps with her friends. Rolling Stone called it "a visually splendid show, and a clever one, too." Check out a trailer here.