Will movie subscription service Sinemia falter like MoviePass?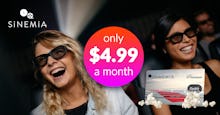 MoviePass competitor Sinemia has spent the summer trying to one up their rival movie subscription service with their recent sale. At its lowest, Sinemia will give you a movie ticket a month for $3.99. The next move goes after its competitors more directly. Sinemia will double its referral reward if you ditch MoviePass — $10 for you and a friend, up from the previous $5.
Sinemia is capitalizing on recent MoviePass turbulence. In two months, its customers have experienced surge pricing for high-demand movies, added costs for more popular movies, a planned blackout (disguised as a random outage) intended to save the company money, and a brief period of time where MoviePass wouldn't let customers cancel due to a "bug" on its app. The service's actions point to a simple fact: No one can offer nearly unlimited movies for $9.99 a month without bleeding money. In the case of MoviePass, the company was losing a little too much money.
As competition dictates, MoviePass' turbulence has helped open the door for other services to swoop in with better deals and more reliable options. Theater chains like AMC and Cinemark now offer monthly deals to keep people at their theaters. Though another service, like MoviePass, offers buyers the ability to see movies at any theater for a price cheaper than buying a ticket outright, the competitor Sinemia touts monthly prices as low as $3.99 per month. The app also offers deals at participating restaurants, where users can save money and Sinemia gets a small fee from those dining spots.
Prices that low surface questions about how the company plans on staying in business — especially in light of the cautionary tale that is MoviePass. Sinemia, founded in 2014, offers service in five countries, according to Oguz: U.S., Canada, Australia, Turkey and the U.K. According to Sinemia CEO Rifat Oguz, the company's ledger is already in the green and has been for a while now.
"By capping it at two tickets for $9.99 per month, we were making the same amount of dollars per user that MoviePass was," Oguz said in an interview with Mic. "Having a limit on the amount of tickets users can buy each month keeps us profitable."
In August 2017, MoviePass dropped their price to the almost impossible deal of one movie ticket a day for $9.95 per month, popularizing the movie theater subscription model. Oguz said his investors asked if Sinemia would upgrade its deal and he refused. With a limit on how many tickets users could buy, Sinemia could offer a good deal without promising customers 30 tickets each month.
"This lets us make the same amount of dollars per user that MoviePass was," Oguz said.
MoviePass has since dialed back their August 2017 offering, from one movie a day to now three movies per month. Sinemia has also changed since then, offering more plans for customers who expect they'll need more or fewer tickets than just two. The plans are made cheaper by the company's recent summer sale, ending on Sept. 3, according to a company spokesperson. Subscribers can choose tiers ranging from $3.99 a month for one ticket to $14.99 a month for three tickets. Two of Sinemia's four plans let subscribers see 3D and IMAX movies and every tier allows advanced purchasing of tickets online. MoviePass says IMAX and 3D options are coming soon for an added cost. No plans have been announced for advanced ticketing.
According to a Sinemia spokesperson, those who sign up during the summer sale will see their month-to-month price increase once the sale ends, likely by $1. Those who buy the annual membership have their price locked-in for the year.
In addition to limiting tickets, Sinemia said its partnerships with restaurants keep them from losing money as well. "When our subscribers go out, they're not just seeing a movie, they may eat something nearby too," Oguz said. "In certain countries we show location-based restaurant deals. We get an advertising fee from restaurants just to be seen in our app."
With MoviePass continuing to collect negative headlines, it only makes sense that Sinemia would sneak in with their updated referral program. With ticket-limiting and advertising, Sinemia is doing anything it can to avoid MoviePass' fate.
Aug 17, 2018, 10:25 a.m. ET: This story has been updated