Rihanna and Donald Glover were spotted filming something together in Cuba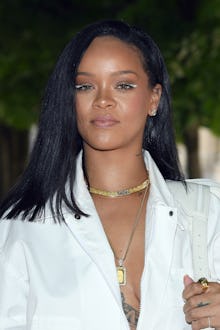 Some Rihanna fans were wondering why the singer was missing in action at the annual Crop Over festivities in Barbados, where she's been known to step out in decorative costume.
Well, we might have a clue as to her whereabout. Photos surfaced online Wednesday of RiRi filming something in Cuba alongside Atlanta star Donald Glover. According to Cuban publication Vistar magazine, the rumored project is called Guava Island.
Hiro Murai, who has directed several episodes of Atlanta as well as the viral music video for "This Is America," is directing whatever Guava Island is, sources told Vistar. British actors Letitia Wright and Nonso Anozie are also reportedly part of the Guava Island cast. There are still few details available regarding the project's plot and what it even is, really.
Rihanna could be further exploring her acting chops, following up on her role in the all-women cast of Ocean's Eight, which was released in June. But this could also be a visual for her forthcoming ninth studio album, which is expected to be a dancehall- and reggae-inspired project.
Similarly, Glover — who's currently filming Disney's live-action version of The Lion King — is working on new material under his musical moniker of Childish Gambino, Variety reported in January. Glover's Atlanta, which received 16 Emmy nominations in 2018, was renewed for a third season in June. There's no word of its premiere date yet, but Glover and his writers room are already discussing ideas for the forthcoming season, according to IndieWire. And in September, Glover will kick off his tour as Childish Gambino with hip-hop duo Rae Sremmurd in Georgia.