6 Aretha Franklin deep cuts you need to hear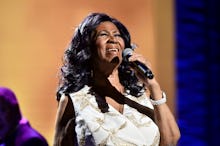 Legendary soul singer Aretha Franklin died at the age of 76 in her Detroit home Thursday morning, according to her publicist. Fans and Franklin's fellow celebrities are mourning the loss of the music icon, who defined the sound of 1960s and 1970s pop and R&B with her powerhouse, Baptist church-reared vocals. Franklin thrived in an era when singers were worshipped for their ability to rip and run with emotion, and her fervent delivery stood as the blueprint for others to follow.
The messages in her music stuck, too, whether she was articulating the anguish of heartbreak or the highs of love, or breathing life into anthems that helped soundtrack the civil rights and women's empowerment movements. In the decades since her popularity was at its height, Franklin has remained an enduring influence for other trailblazers, like Mary J. Blige and Kanye West, both of whom have sampled her work.
But Franklin's influence goes far deeper than the hit songs that she's most closely associated with. As the world remembers the late legend, we've put together a primer on her musical legacy, highlighting some of her less heralded tunes. Here are six deep cuts that demonstrate why Franklin remains the Queen of Soul. Cue them up now.
"Ain't Nobody (Gonna Turn Me Around)" (1967)
On Franklin's most popular tracks, 1967's "Respect" and 1968's "Think," we hear a woman setting boundaries when it comes to how she's treated in relationships. Lovers of those essential records who need more of Franklin's assertive energy will also appreciate "Ain't Nobody (Gonna Turn Me Around)," from her 1967 album, Aretha Arrives. It's another noteworthy moment where Franklin's saying that a woman's needs matter in love — a theme that she paved the way for today's female acts, like Beyoncé, Ariana Grande and SZA, to sing about today.
"The Weight" (1969)
In 1969, Franklin released a soulful rendition of "The Weight," which was featured on her 1970 album, This Girl's In Love With You. Canadian-American group The Band originally put out "The Weight," a vivid folk-rock tale of a wandering traveler, in 1968. Although The Band's version is generally considered one of the greatest songs of all time, Franklin's cover initially brought the tune to a wider audience, as it reached at no. 19. on the Billboard pop charts. (The Band's version peaked at no. 63 upon its release.) Just consider this — along with her turning Otis Redding's "Respect" into her signature song — proof of Franklin's Midas touch when it came to covering tracks and making them her own.
"Day Dreaming" (1972)
Franklin is infatuated on "Day Dreaming," a swooning, psychedelic and jazzy cut off of her 1972 studio album, Young, Gifted and Black. The track exemplifies Franklin's ability to channel genuine and deep-seated emotion, as the song was based on a real-life love interest. In 1999, Franklin admitted to Oprah Winfrey that the late Dennis Edwards, lead singer of The Temptations, inspired her smitten state on the track. (Fun fact: Rapper Cam'ron also sampled this on his 2002 single "Daydreaming.")
"You'll Never Walk Alone" (1972)
Franklin revisited her Baptist roots on Amazing Grace, a live gospel album released in 1972 and recorded at New Temple Missionary Baptist Church in Watts, Los Angeles. One standout on her best-selling album is "You'll Never Walk Alone," in which Franklin displays flawless range as the spirited audience cheers and shouts for her to keep singing. All these decades later, you can still feel Franklin's devotion to the type of music that shaped her soulful sound.
"(It's Just) Your Love" (1982)
Back in 1981, a young newcomer Luther Vandross produced and wrote for Franklin's 1982 album, Jump to It. Although she was decades into her career, this was the first project in which Franklin explored her "dark, sultry alto register," as the New York Times wrote in a 1982 profile of Vandross. One track from the album, "(It's Just) Your Love," is a showcase for Franklin's vocal shift. She takes us on an aural cruise, serenading us with smooth lower notes and lyrics of appreciation for a loyal romantic partner.
"It Hurts Like Hell" (1995)
The Waiting to Exhale soundtrack, released in 1995, was produced and largely written by Babyface. Spanning 16 tracks, the compilation brought together an all-star set of divas like Whitney Houston and Chaka Khan, and fresher songbirds including Brandy and Mary J. Blige. Franklin was the most seasoned singer to appear on this murderers' row of a track list, singing the cathartic "It Hurts Like Hell," about accepting the failures of love. Even in the presence of what was then newer talent, Franklin reigned supreme. And she still does today.