Finding yourself in SoBe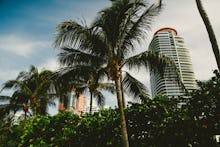 Inclusivity and diversity are at the heart of what makes South Beach such an iconic getaway.
South Beach is a figurative melting pot: a sun-streaked mix of people of different ethnic backgrounds and sexual orientations, dive bars alongside four-star restaurants, CrossFit trainers next to larger-than-life sandwiches, neoclassical colors across from art deco-styled buildings — and so much more.
Whether you're interested in the beaches, the art, the history, the natural landscape, the food or simply a night of questionable decision-making in a tropical paradise, Miami Beach has you covered. Booking.com recently chose travel blogger Cameron Phillips to be their first official Chief Booking Officer, a unique position as a cultural influencer and real travel aficionado tasked with underscoring Booking.com's commitment to making every travel experience a memorable one. Phillips's first stop was in SoBe, where he was to find out what makes this part of Miami so appealing–an investigation that included sampling some of the area's poshest digs and most-hyped attractions.
The Villa Casa Casuarina
Once owned by Italian fashion designer Gianni Versace, the Villa Casa Casuarina sits across from central South Beach on Ocean Drive, like a storied relic of the past imbued with a timeless mystique and elegance. According to the Casuarina's official website, the estate was originally commissioned in 1930 in a Mediterranean revivalist style by architect and Standard Oil heir Alden Freeman. The building was meant to pay homage to the Alcázar de Colón of Santo Domingo (Dominican Republic), former home of Christopher Columbus's son Diego Colón. Freeman was so inspired by Colón's Dominican residence, he even brought back to the United States two of its coralline rock blocks, one of which sits to the right-hand side of the main entrance of the Casuarina to this day.
Fast forward to 1992, when a vacationing Gianni Versace came across the estate and immediately became enamored with it, citing the property's "Kneeling Aphrodite" statue and unique Spanish architecture. Millions of dollars and years later, Versace turned the 24 apartments into 10 large suites, plus an additional two in the south wing.
On this trip, Phillips stayed in the luxurious Aviary Suite, replete with bird statues, paintings, and mosaics. It is easy to feel like Versace or one of his famous friends when staying in this suite: There are always people crowding the outside gate and, once inside, it oozes the kind of stylish sophistication that became synonymous with the Versace name.
South Pointe Park Beach
A leisurely jaunt from the mansion toward the bottom of Miami Beach brings you to South Pointe Park. A literal clashing of two worlds, you're at once swept up by the beauty of nature – shimmering rocks, bright blue waters and, on some days, even the occasional alligator – while also being immersed in the city's highly modern yet playful architecture.
The park underwent a huge renovation in 1984, eventually giving way to 20-foot-wide walkways lined with Florida limestone, usually teaming with runners making their way up the coast. There's also an ocean-themed children's playground.
At the beginning of the park sits "the obstinate lighthouse," a large Leaning Tower of Pisa-esque sculpture designed and created by artist Tobias Rehberger. Paying homage to the city's status as a port to the Caribbean, the lighthouse sits at the southern tip of Miami Beach to welcome boats passing through, with its wobbly appearance perhaps nodding to Miami's rich artistic history and some of the Spanish greats.
World Erotic Art Museum
A few blocks from the Villa Casa Casuarina stands one of the largest collections of sexually themed fine art in the world, the appropriately named World Erotic Art Museum.
Founded by Naomi Wilzig in 2005, the concept for the museum came about almost by accident. According to WEAM's website, the collection began when Wilzig's son Sir Ivan, a recording artist, asked his mother for a piece of erotic art in which to decorate his new apartment. While Wilzig was an antique collector, the notion of collecting works celebrating sex had never crossed her mind – and when her son was unimpressed by her first selection, she became compelled to keep on collecting.
Eventually, Wilzig would collect more than 4000 works of international art ranging from 300 BC to the present day, hitting different artistic movements throughout the ages – from ancient African sculptures to '80s photographs documenting the gay rights movement.
Under the Mango Tree
One of South Beach's best-kept secrets lies in an unassuming shop along the bustling expanse of Fifth Street. Tucked inside a cool storefront with vines and tinctures lining its walls sits Under the Mango Tree, a unique vegetarian establishment with an earthy charm. For the health-conscious Miami Beach visitor, Under the Mango Tree is a must, serving a variety of Acai bowls, granolas, juices, smoothies and vegetarian comfort food nearly as colorful as the city itself. Truly a highlight of Phillips's visit, it should come as no surprise then that according to Booking.com, 42% of American travelers agree that finding the best 'local secret' made their trip.
Wynwood
For all things street art and fashion, venture across the Biscayne Bay to Miami's Wynwood neighborhood. Once dubbed "Little San Juan" as a nod to the many Puerto Rican-run businesses that line the streets, the neighborhood began to boom in 2005, thanks in part to the development of Midtown Miami. Thousands flock daily to the Wynwood Walls, a literal collection of walls featuring commissioned murals by 30 international graffiti artists. The Wynwood Arts District, which had historically been an industrial zone and Florida East Coast Railway rail yard, is now a center of culture, with areas dedicated to fashion, art, and technology – and no shortage of microbreweries and chic restaurants.
Pérez Art Museum Miami
Outside of the erotic art and bountiful graffiti, Miami is at the center of the contemporary art world, with festivals like Miami Beach Art Basel and institutions like the widely regarded Pérez Art Museum Miami putting it on the map.
Located in Museum Park across from the newly renovated Phillip and Patricia Frost Museum of Science, Pérez is a beacon of contemporary art, with a focus on collecting and exhibiting international art of the 20th and 21st centuries that represent Miami's diversity and history.
As Phillips toured the museum, he witnessed the museum's current show "The World's Game: Fútbol and Contemporary Art," an exhibit that displayed the many ways in which artists view the World Cup and its importance in their respective communities. The museum's curators are invested in representing the different communities of Miami, which span more than 150 ethnicities and 60 languages.
Other highlights of Phillips's visit to the museum include Haroon Mirza's "ACIDGEST" – a room transformed into a bath of sound and light emanating from amplifiers the artist customized – the museum's permanent collection show "Within Genres" and the jaw-dropping views of the Biscayne Bay and accompanying hanging gardens from Pérez's third floor terrace.
Palace South Beach
Drag reigns supreme in Miami, especially at the infamous Palace South Beach, which stands a mere two blocks from where Phillips was staying. With its signature weekend drag brunches and weeknight drag shows, Palace has been the go-to place for anyone looking to have a good time.
The evening's host, Noel Leon, added some context to the phenomenon. Before Leon, Palace was known for having semi-regular drag shows that were more of the comedic variety. A make-up artist and hair stylist with a history of dance, Leon wasn't interested in working in drag until she got a call from Palace's manager, Carlos. "[He said], 'We want to bring some glamour and we want to start a brunch.' That's how it started at Palace for me."
These nights, you can't walk down the coast of South Beach without seeing a crowd roaring outside of Palace South Beach – as Leon noted, "The brunch became the thing to do on Ocean Drive."
Outside of Leon, performers on the night of Phillips's visit included Olga Dantelly, Mhi'ya, Kalah Mendoza, and Melissa Plastic Hilton.
Mr. Bing
There's nothing quite like ending a summer's day on the town with a delectable frozen treat. In an alley off Lincoln Road Mall stands Mr. Bing, a late-night ice cream joint with a Taiwanese flair.
The Mr. Bing ice cream experience is created by shaving a frozen block of sweetened cream into papery thin strands, serenading the dish with all your favorite toppings (which could include Pocky sticks or Fruity Pebbles) and eating it with a fork. The consistency – light, velvety, and refreshing – cools patrons off before another day well spent under the South Beach sun.