The Masterpiece Cakeshop owner is suing for discrimination again — this time over a trans woman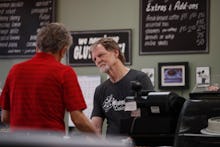 After the U.S. Supreme Court ruled in June that he could decline to make wedding cakes for same-sex couples because of his religious beliefs, Jack Phillips — the owner of Colorado bakery Masterpiece Cakeshop — is suing the state again, this time over his right to refuse service to a transgender customer.
On Tuesday, Phillips filed his second federal lawsuit, naming Colorado Gov. John Hickenlooper as one of the the defendants. The case alleges that the state "has been on a crusade to crush" Phillips because its elected officials "despise what he believes and how he practices his faith," according to court documents.
The issue this time around stems from a cake order placed by lawyer and transgender Colorado woman Autumn Scardina in 2017. According to the Washington Post, Scardina requested a birthday cake from Masterpiece and asked that the cake be blue on the outside and pink on the inside — a color scheme that would serve the dual purpose of commemorating the seven-year anniversary of the day she came out as transgender.
According to court documents, Phillips declined to bake the cake on the grounds that it "would have celebrated messages contrary to his religious belief that sex — the status of being male or female — is given by God, is biologically determined, is not determined by perceptions or feelings, and cannot be chosen or changed."
On June 28, the Colorado Civil Rights Commission ruled that Scardina had "probable cause" to argue that Phillips had discriminated against her on the basis of gender identity, and Colorado Civil Rights Division's director Aubrey Elenis wrote in her ruling that the baker had "denied her equal enjoyment of a place of public accommodation."
But Phillips, who sparred publicly with the Colorado Civil Rights Commission during the first federal lawsuit, is now alleging in his latest suit that the organization "will not rest until Phillips either closes Masterpiece Cakeshop or agrees to violate his religious beliefs" and is seeking an award of punitive damages from the group totaling $100,000.
In June, after the Supreme Court issued its 7-2 ruling in favor of Phillips, Justice Anthony Kennedy was notably sympathetic to Phillips' claims that the Colorado Civil Rights Commission had discriminated against him because of his religious beliefs.
Although the Justices were firm in their conviction that same-sex couples "cannot be treated as social outcasts or as inferior in dignity and worth," Kennedy wrote in his ruling that "the neutral and respectful consideration to which Phillips was entitled was compromised here."