'Mic Dispatch' episode 10: Missing Native American women; celeb-certified designer Christian Cowan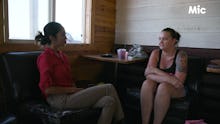 On the latest edition of Mic Dispatch, we travel to North Dakota, where Native American women have been going missing. These cases are especially difficult to investigate on reservations like Fort Berthold, where an oil boom in the late 2000s brought in thousands of non-tribal men to work. Tribal police only investigate enrolled Native Americans on the reservation, while the county police only investigate non-Native Americans. This means there are often serious gaps in the investigation if a Native woman goes missing and the suspect may be non-Native.
Without an official database, no one really knows just how many Native women have vanished from reservations, but of Native women who have experienced sexual violence, 96% said at least one of their assailants was non-Native. We explore the story of Olivia Lone Bear's disappearance, the efforts to find her and the search for justice in her case.
Next up, we profile 24-year-old designer Christian Cowan, a relative newbie in the fashion world, with only three shows at New York Fashion Week under his belt. But the list of stars he's dressed shows a designer harnessing the power of celebrity to skyrocket his brand's trajectory: Beyoncé. Lady Gaga. Cardi B. Ariana Grande. Miley Cyrus. Nicki Minaj. Dua Lipa. Lana Del Rey. Issa Rae. Rita Ora. Janelle Monáe. Hailee Steinfeld. Charli XCX. Beth Ditto. Normani. Olly Alexander. Gwen Stefani. Paris Hilton. Remy Ma. Camila Cabelo. Kendall Jenner. Kim Petras. Those are just 22 of the celebrities who have worn Cowan's designs in music videos, on tour, in photoshoots or simply walking down the street.
We learn more about the man behind the label, take a peek inside Cowan's home and studio and hear from some of his dear friends — including supermodel Duckie Thot and Drew Elliott, Cowan's partner and president and creative director of Paper magazine.
Check out episode 10 of Mic Dispatch — only on Facebook Watch.
To catch future episodes of Mic Dispatch, follow Mic Dispatch on Facebook Watch. For more stories about the show, visit the Mic Dispatch collections page.