Omarosa releases tape of Lara Trump offering $15,000 a month for campaign job after her firing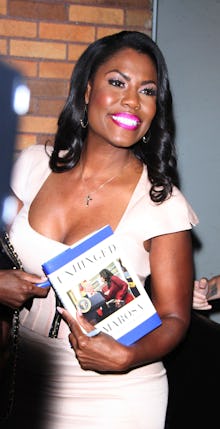 Ahead of the release of her tell-all book, The Apprentice villain turned White House aide Omarosa Manigault Newman released yet another recording Thursday afternoon, which purports to show Lara Trump offering her a $15,000-a-month campaign job after she was fired from the White House in December.
Manigault Newman provided the audio to MSNBC. The tape appears to show that Lara Trump — a Trump campaign adviser and wife of Trump's son Eric Trump — offered Manigault Newman the job for the president's re-election campaign in exchange for her promise to only say positive things about him and the campaign. The audio corroborates Manigault Newman's claim that the Trump campaign sought to buy her silence.
"It sounds a little like, obviously, that there are some things you've got in the back pocket to pull out," Lara Trump says on the tape. "Clearly, if you come on board the campaign, like, we can't have, we got to," Lara Trump continues before Manigault Newman cuts in to say, "Oh, God no."
"Everything, everybody, positive, right?" Lara Trump adds. She goes on to lay out where the funds would come from.
"And that all the money that we raise and that pays salaries is directly from donors, small-dollar donors for the most part," Lara Trump says on the tape. "So, I know you, you were making 179 at the White House. And I think we can work something out where we keep you right along those lines. Specifically, let me see, I haven't even added up the numbers. But we were talking about, like, 15K a month. Let me see what that adds up to. Times 12. Yeah."
President Donald Trump has been on the warpath against Manigault Newman since she began a tour for her book, Unhinged: An Insider's Account of the Trump White House, released this week, which makes bold charges against Trump and the White house.
Trump has called Manigault Newman a "dog," "wacky" and "not smart." White House press secretary Sarah Huckabee Sanders piled on, calling Manigault Newman a "disgruntled" former employee.
Trump is also suing Manigault Newman for millions of dollars, claiming she has breeched a nondisclosure agreement.
But Manigault Newman said she is not bowed by Trump's attacks, telling MSNBC on Thursday that in her, Trump has "met his match" and that she will release more tapes if she has to. She's already dropped three tapes, including one of her firing at the hands of Chief of Staff John Kelly and another that shows Trump campaign aides discussing how to mitigate damages if a tape where Trump uses a racial slur is ever released.
"Believe me, my tapes are better than theirs," Manigault Newman told MSNBC's Craig Newman.