No midterms boon: Brett Kavanaugh has lowest public support of a Supreme Court nominee since 1987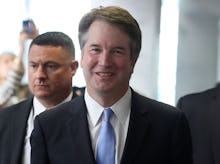 Brett Kavanaugh has the lowest public support of any Supreme Court nominee since 1987, according to a poll released Thursday by CNN, with just 37% of Americans saying they support the Senate confirming him to the nation's highest court.
The only Supreme Court nominee to receive a lower level of support in the past 20 years was Robert Bork in 1987, according to CNN. Bork's nomination was rejected, after a public outcry about Bork's positions on civil rights and abortion access.
Kavanugh's low level of support is thanks to women. Only 28% of women say President Donald Trump's Supreme Court nominee should be confirmed.
The poll doesn't ask why women don't support Kavanaugh, but Democrats opposed to his nomination have raised the possibility that he would be the deciding vote to repeal Roe v. Wade, the landmark Supreme Court case that protected the right to an abortion.
Polls show that by large margins, Americans want the right to an abortion to be preserved. And pro-abortion-rights groups NARAL and Planned Parenthood have been on a #RiseUpForRoe tour across the country to try to build opposition to Kavanaugh's nomination.
On Saturday, former first daughter Chelsea Clinton and other women's rights activists joined the tour for an event in New York City to "detail exactly what is at stake with the nomination of Brett Kavanaugh, who would gut Roe v. Wade and criminalize abortion," according to a news release for the event.
However, Kavanaugh's low level of public support is unlikely to doom his confirmation. Senate Judiciary Chairman Chuck Grassley has already scheduled Kavnaugh's confirmation hearings for Sept. 4, after the Senate returns from a Labor Day recess and before senators are able to review a trove of documents pertaining to Kavanaugh's career.
GOP senators who once appeared to be on the fence about Kavanaugh's nomination seem to now be onboard, including Sen. Rand Paul (R-Ky.).
But the low level of support is a sign that Kavanaugh's nomination is not the midterm election boon Republicans said it would be.
After Supreme Court Justice Anthony Kennedy retired, Republicans said that a Supreme Court nomination fight would fire up Republican voters to head to the polls in the midterms — possibly helping the GOP's chances in an otherwise bad year for the party.
But Kavanaugh's low level of support, especially among women voters who will be key to the outcome of the midterms, is a troubling sign for the GOP.
"There's a whole generation of women who have never lived in this country without Roe, and that's legitimately at risk," a senior Senate Democratic aide told Mic in July. "And Republicans risk a massive blowback doing it this close to the election in terms of motivating our base. I think [the Supreme Court seat] will be a motivator for us in a way that it hasn't been in the past."