Mic Daily: Celebrities pay tribute to Aretha Franklin; other top stories of the day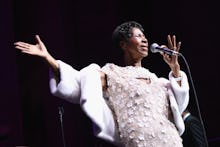 Welcome to Mic Daily: Mic's newsletter that cuts through the noise and lands in your inbox every weekday. We carefully curate each edition to send you a cross section of our most vital stories of the day. Want to receive this as a daily email in your inbox? Subscribe here.
Want more entertainment news in your inbox? Sign up for Hype Daily— Mic's morning entertainment roundup. It's got all the news you need to start your day.
Aretha Franklin, the iconic singer known as the Queen of Soul, died of pancreatic cancer Thursday in Detroit. As NPR reported Thursday, the 76-year-old Franklin was one of the bestselling artists "of all time." In 1987, she became the first woman inducted into the Rock and Roll Hall of Fame. In addition to her music, Franklin was also involved in the civil rights movement and toured to raise money for the cause.
After news of Franklin's death broke, celebrities from the music and entertainment world — and beyond — posted tributes to the legendary performer on social media.
After the U.S. Supreme Court ruled in June that he could decline to make wedding cakes for same-sex couples because of his religious beliefs, Jack Phillips — the owner of Colorado bakery Masterpiece Cakeshop — is suing the state again, this time over his right to refuse service to a transgender customer.
Brett Kavanaugh has the lowest public support of any Supreme Court nominee since 1987, according to a CNN poll released Thursday, with just 37% of Americans saying they support his confirmation to the nation's highest court.
Ahead of the release of her tell-all book, The Apprentice villain and former White House aide Omarosa Manigault Newman released yet another recording Thursday afternoon, which purports to show Lara Trump offering her a $15,000-a-month campaign job after she was fired from the White House in December.
The shake jolted me awake — I was sleeping in a stilted cottage in Volcano village on Hawaii island, not far from the summit of the Kilauea volcano, and my room and all of its contents were swaying back and forth. A text message alert confirmed what I already suspected.
"Volcanic activity near the summit of Kilauea volcano is causing sporadic earthquakes isolated in the volcanic area not due to plate tectonics but by the release of steam through the earth's crust."
By many metrics, what is happening on Hawaii island can be considered a natural disaster. But native Hawaiians I spoke to view this period not as one of pure destruction, but rather the logical continuation of their islands' geological evolution — a time of deep cultural and personal reflection and realignment.