Hype Daily: The world mourns Aretha Franklin, Kenya Barris moves to Netflix and more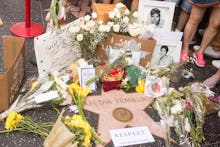 Welcome to Hype Daily, Mic's morning entertainment roundup. Here's everything you need to catch up on in the entertainment world and what to look forward to today. Want to receive this as a daily email in your inbox? Subscribe here.
The world is mourning Aretha Franklin
Legendary singer Aretha Franklin died Thursday at the age of 76, and it felt like everyone was mourning the loss of an icon. Tributes to Franklin poured in on social media — including from musicians like Chance the Rapper and Elton John, and world leaders like former President Barack Obama, all of whom shared a message for the Queen of Soul.
In New York City, Brooklynites turned the Franklin Street subway station into a memorial. In Franklin's home city of Detroit, where she lived for decades, the Motown Museum announced it would play Franklin's music all weekend. And you can bet that in homes, cars, bars and coffee shops all across America, people were blasting Franklin's music on Thursday.
Kenya Barris is officially moving to Netflix
No surprise here: Black-ish creator Kenya Barris, who left ABC in July, is officially making the jump to Netflix. The streaming service announced Thursday it had inked a deal with Barris, confirming our collective suspicions that Barris would follow on the heels of creators like Shonda Rhimes and Ryan Murphy, who both made similar moves.
Barris reportedly left his ABC contract early, amid rumors of tension with the network. The details of the production deal aren't clear yet, but let's hope Barris has lots of new projects in the works.
TJ Miller says actually, he isn't a bully
Comedian T.J. Miller, who has been accused of sexual assault by a past girlfriend and was recently arrested for allegedly calling in a fake bomb threat, says he's not a bully. Miller was on SiriusXM's Jim Norton & Sam Roberts show on Wednesday, responding to comments made on Twitter by his former Silicon Valley co-star Alice Wetterlund, who called him "a bully and petulant brat" on set.
"I'm not a bully," Miller said on the show. "I don't think I have the energy of someone who comes in and is like, 'OK, shut up, the men are talking now.'" He also claimed that, actually, Wetterlund was the one who "was difficult to work with" on set. Hmm.
Julia Louis-Dreyfus is back on the set of Veep
Comedian and unstoppable force Julia Louis-Dreyfus is back on the set of Veep to film the HBO comedy's seventh and final season, which will air sometime in spring 2019. Dreyfus tweeted a video of her addressing the cast and crew on Thursday, with the message, "Before the first shot of season 7 of @veephbo. So deeply grateful to be back together with all these superb people." In the video, she tells the crowd, "I'm very grateful, thank you very much."
Veep had postponed production in order to accommodate Louis-Dreyfus' treatment schedule after she was diagnosed with breast cancer in 2017. We're happy to see you back at work, Julia!
Put this on your radar: Busy Philipps' talk show
OK, this one isn't happening for a while but that gives us all plenty of time to get excited. Back in May, we noted that Busy Philipps was getting her own late-night talk show on E!, joining a very small group of women on late-night television.
Now that show has a showrunner and a premiere date, we can officially put it on our radars. Deadline reported Thursday that Philipps' show, titled Busy Tonight, will premiere at 10 p.m. Sunday, Oct. 28 on E! The production will be helmed by Caissie St.Onge. Get excited everyone — if Philipps' new show is anything like her Instagram presence, it's going to be fun.